Phuket Today
How does Phuket look like during COVID? There is no doubt that Phuket is going through an incredibly difficult year because of COVID-19. Phuket relies almost entirely on tourism, and after more than a year without international travellers, most businesses have closed, temporarily or permanently. Thailand is trying to revive tourism with the sandbox program and even advertise on major international TV channels. A huge campaign of vaccination took place to prepare the island population for the reopening. The few visitors who made an effort to travel already know that after 16 months without business, Phuket will look a lot different from what it used to be.
---
---
So what does Phuket look like after more than a year of isolation? What is still open? What can you still do on the island?
What is still open and even better than before?
Travelling to Phuket from overseas is challenging. Only a few visitors will go through the hardship of getting a vaccine, getting tested and even quarantine (depends on how the situation and rules evolve each week). But just like it happened after the 2004 tsunami, those who are strong enough to come now will not only do it for themselves but by doing so, will also support locals and friends here. In return, those who make that effort will be rewarded with an unforgettable experience: they will see the beauty of Phuket like almost no one have seen it before. This is a rare chance to witness why Phuket is so famous; even Patong beach is amazingly beautiful.
---
There is a silver lining to this COVID situation: mother nature can take a much-needed break from years of excessive tourism. The few travellers who will make the effort to go through the somehow complex requirements to come to Phuket now will be rewarded with something unique. You can witness the original and natural beauty of Phuket the way very few people saw it before. The beaches are incredibly beautiful, and you can clearly understand why Phuket became famous the world around.
The most surprising is probably Patong Beach. Most of you visualise it as a crowded beach with plenty of beach chairs, vendors, parasailing and noisy jet ski. In fact, the bay of Patong is truly the most beautiful beach on the entire island, and if you get a chance to see it now at low tide, you will understand why it fast became the most popular beach in Phuket.
Phuket 101 receives 250,000 monthly visitors on average (500,000 pageviews/month).
If you wish to advertise on this space or other options available on Phuket 101, just contact us.
---
---
You still can travel to many beautiful islands around Phuket. Similarly to the many amazing beaches, this is a unique chance to see Koh Phi Phi, Coral island and Racha Island without the usual crowds people used to complain about during the high season of normal years. There are still a few travel agencies running. The small islands are quiet but not too surprising, but while Phi Phi is strikingly beautiful, the shops are all closed, and only a few people are left on the island. It is a little eerie, as you can see on this video we shot recently.
---
---
While the beaches are empty during the day, Phuket Town is still quite busy because most locals are not as attracted by beaches as tourists are. They rather stay away from the bright sun and heat and sometimes go to the beach in the evening to eat by the sea and enjoy beautiful sunsets.
You will still see many young people exploring the old streets of Phuket town to take selfies, enjoy fancy ice creams, eat old fashioned Thai sweets, drink tea and coffee at the growing number of coffee shops in Phuket Town. And of course, everyone ends up enjoying true Thai food a the many restaurants still open in town.
---
Sadly, most restaurants catering to tourists are closed, but local restaurants are still running normally for the residents. There are two kinds of local restaurants. The small and modest venues where decoration is basic, usually a modest venue by the street or the road, run by a family for decades. Those are usually the best real experience to enjoy real Thai food in Phuket, but most tourists are hesitant to walk in. Read our list and take a chance; it is worth it if food means a lot to you as much as it does for us. If you are not familiar with real Thai food, the menus might appear a little challenging at first, but eating local is part of the travelling experience.
If you are not sure local food will fit your diet and palate (some dishes can really be spicy!), you can find many excellent mid-market restaurants in Phuket Town and Bangtao areas. At this time, except in your hotel, don't expect to find much in Kata, Karon, Kamala or even in Patong Beach.
---
Many of the usual tourists' attractions might still be closed if you visit Phuket nowadays. However, just like the beaches and local restaurants, what makes Phuket a true Thai destination is still open, simply because this is Thailand and Thai people are still here. The many temples and Chinese shrines of Phuket are open all over the island, and they are beautiful and inspiring. They are the true Thailand, so you should visit a few of them, take some photos, make a small donation, and pray for a better future; you will not regret it. The most popular temple is always Wat Chalong, and not far from it, the Big Buddha of Phuket will be all yours to take photos of.
---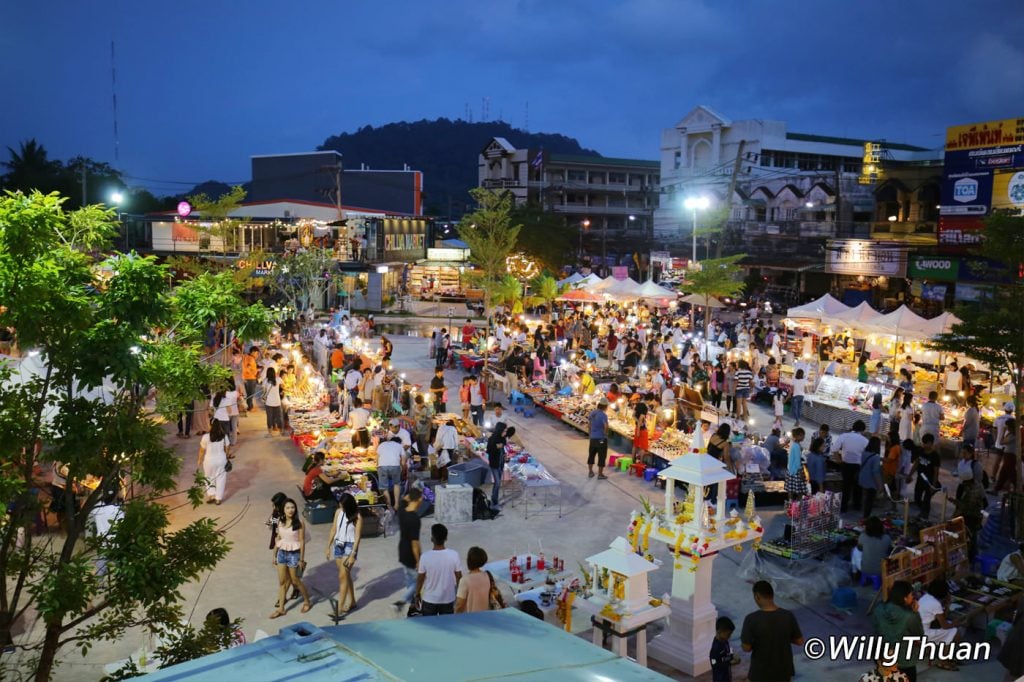 Most night markets address tourists are closed, but a couple of them are still open because locals love them so much. While Naka Night Market is under renovation and the famous Sunday Walking Street Market is on hold, the very popular Chillva Night Market is still open from Monday to Saturday (closed on Sunday). It's a great opportunity to experience fun local street food! Obviously, social distancing is rather poor, so you should only visit if you are vaccinated.
---
Usually, driving in Thailand is notoriously dangerous for many reasons: Intense traffic, very different driving habits, lack of respect for basic driving rules and drunk driving. But right now, the roads are very quiet, and almost all of them have been resurfaced! It's a breeze to drive around, and exploration has never been better!
You still can rent cars and small motorbikes at a very good price, so it is worth renting something and explore the island like never before. Even though the roads are quiet, keep in mind that people drive differently in Thailand and even more in Phuket, so even though traffic is a lot smoother, keep your eyes on the road and other drivers: don't rush ahead when the traffic light turns green, and get ready for cars changing lane all the time without much warning, etc.
---
What is not doing well
Phuket is famous for the surprisingly large amount of things to see and do for all ages, on the island and around, by day and by night. With no visitors for more than a year, most shops, restaurants, attractions and entertainment venues were badly affected. While there is still a lot to do, few things and places you will not enjoy.
1. Night clubs are closed, and nightlife is almost non-existent
If nightlife and parties were high on your list of things to do in Phuket, you should definitely reconsider your trip. Apart from a few bars along the main street, Bangla Walking Street is deserted, and all the famous international nightclubs are closed.
---
2. Patong Beach is very, very quiet
If you stay around Patong Beach, you will be surprised by how beautiful the beach is! It truly is jaw-dropping if you know how hectic it can be in a normal situation. A few hotels are still running, and visitors can find a handful of restaurants and shops still open, but the very popular Jungceylon Shopping Mall where people loved to shop and eat after a day at the beach or in case of rains is mostly empty. It is almost eerie to drive through the empty streets of the once-bustling Patong Beach.
---
3. Kata and Karon are the most affected areas
If you are a fan of Kata and Karon beaches, you will be shocked to see what those two much-loved beach towns have become. Apart from the beaches, these are real ghost towns. All the shops are, of course, closed, but they also have been emptied, and many start to crumble. So, unless you are a surfer and plan to stay at the Beyond Resort Kata Beach, better skip these 2 beaches until the situation really starts to improve.
---
4. Driving out of the island is difficult or even not possible
Depending on the evolution of the virus situation, going out of the island can be challenging or impossible. Phuket is actually a province, so you might not be able to drive there and come back. Even if the border to the next province reopens, the queue at the Phuket checkpoint to re-enter the island can be discouragingly long. Places like Khao Lak and Samet Nangshee are probably not a good idea, but you can still for around Phang Nga by boat!
---
5. Remote beaches are neglected
Debris abandoned on the white sand of remote beaches is not specific to the COVID situation as it happens during every monsoon. Still, it is a little bit more visible since many beaches have received no attention for a very long time. Some remote beaches are littered with debris, but this is not garbage abandoned by the locals, but floating stuff brought by the rough seas of monsoon days. There used to be teams of volunteers to collect them, but with the current situation, it is becoming difficult, so don't be surprised.
---
---
We are not trying to minimize the situation in Phuket; we want to share a view of Phuket that few have seen before. How the original beauty of the island is and why it probably attracted so many people as the years passed.
A Video of Phuket Beaches in 2021
---
Read about Phuket Sandbox