---
Where to Celebrate New Year's Eve 2023 in Phuket?
---
What are the Best Party Places for New Year's Eve in Phuket is the big question coming up soon. New Year is a day like no other, and this is the place to be! Phuket is pretty much party all year round, so you can expect some serious happening all around the island. Every hotel will have a gala dinner with some poolside entertainment, and main beaches will see fireworks: places where people party all year round will have to deliver something even more significant, a party you will never forget. Nightclubs and Beach clubs will blast the countdown, and the party will be wild all night long. This is the night you want to remember!
Party on the beach like you haven't partied in years, with a beautiful sunset, fire show, special live music and dance performances by Notto, Chris Yaw, Groove, Kimmi and saxophone by Thom Sax, Thai contemporary dance by Tak Team and special illumination. There will be a buffet for all guests with tops of the menu (18:00-23:00) and a countdown and fireworks at midnight.
We all have been waiting to travel again for so long, so Let's start the New Year together. No other place throws parties like us. We are ready for 2023!
Starts: 5 pm
Location: South end of Karon Beach
Reservation: 094 156 4546
Facebook: https://www.facebook.com/tannterracephuket/
Google Map: https://goo.gl/maps/WW6siWYBKq5MEoGEA
---
---
Bangla is party central all year round, so this famous street will be even more crowded this night. Every bar gets full, and the atmosphere is unique to this night. If you don't plan for New Year, walk up and down until you spot a bar or a club that talks to you. It's not sophisticated or romantic. It's loud, colourful, messy, and 100% party animal. If you come for a wild night, this is your best bet. Read more about Bangla.
Drone Footage on New Year's Eve in Patong!
Drone Footage by Richard Hearne
Location: Kamala Beach
Cafe Del Mar confirms that Phuket is the right place for a beach party beach club with good music, great drinks and, most of all, notorious parties. Since beach clubs all learned the hard way that you can't have your club right on the beach, Cafe Del Mar did what the new generation of beach clubs did: build on the very edge of the beach line, usually under the trees. Read more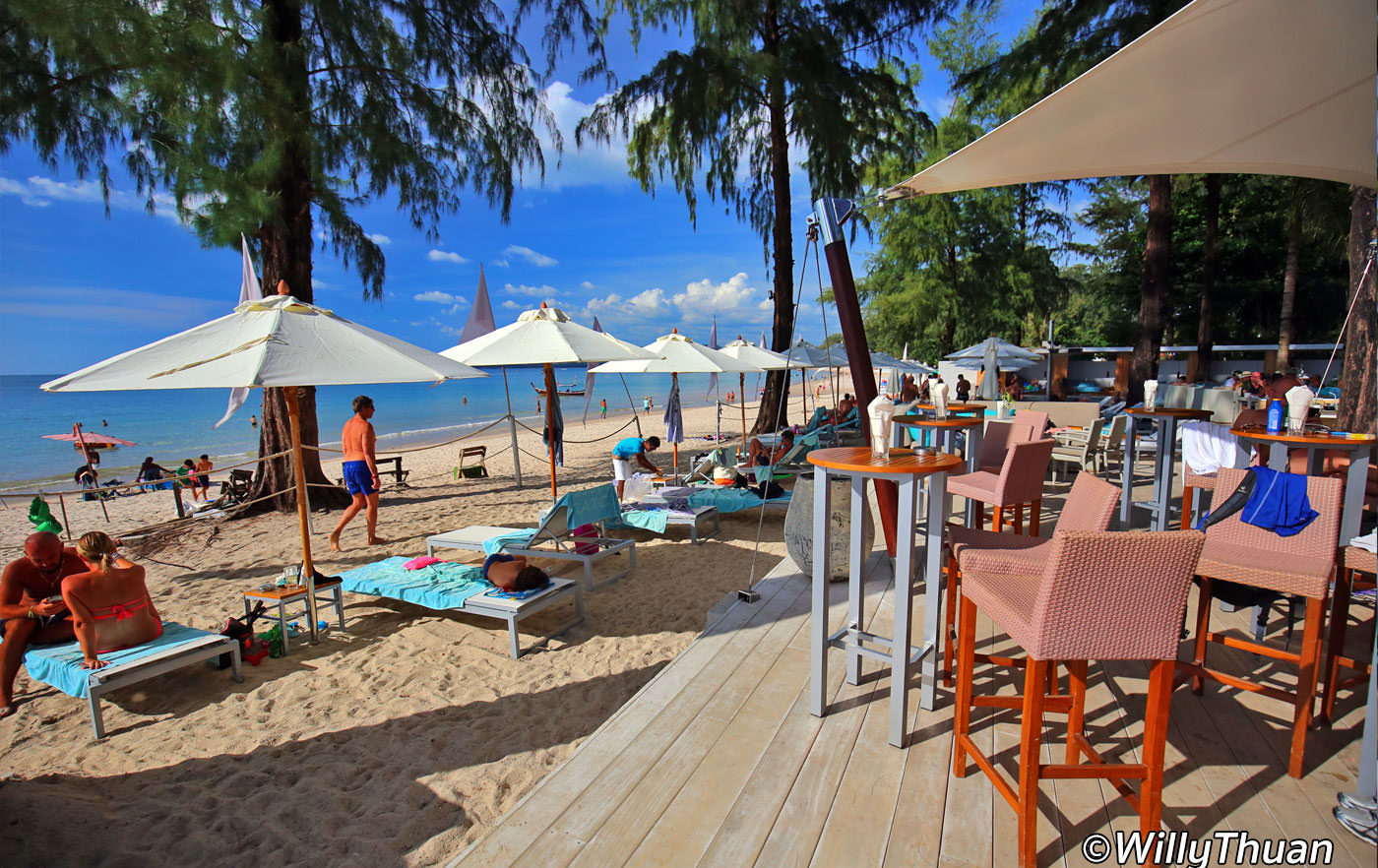 Location: Bang Tao Beach
Catch Club is an iconic beach club in Phuket. It was the first such club to open years ago in Surin, a nearby beach. The new one is not as striking as the original Catch Beach Club, but it is a great place for the countdown on the sand and by the sea. Read more
Start your party on the beach evening with the last golden sunset of 2022, followed by a lavish New Year's Eve Gala dinner buffet. A selection of wines, beers, cocktails, and spirits will be served during the evening. A live band will delight you during dinner.
Say goodbye to 2022 and welcome 2023 on the dance floor. Indulge in a night of happiness with DJ Bradley and count down the end of the year with us amid the wonderful fireworks.
Starts: 7:30 pm
Location: The Surin Phuket
Tel. +66 (0) 76 316 400
Email: [email protected]
Location: Bang Tao Beach
Beach clubs are a great way to celebrate the new year. It's more tropical and less hectic than the nightclubs of Patong, but you still can party, drink and dance all you want. If you need a break, you can walk on the beach and step away from the noise. You could swim, but we wouldn't recommend it; alcohol and dark ocean don't mix well. Read more
Location: Patong Beach
KUDO Beach Club is a popular venue in Phuket, with a unique location on the beach of Patong; it has all the ingredients to be a popular party place on the island. Phuket was once famous for its beach clubs, but most disappeared overnight. The trend is back with this attractive new addition.¥. Read more
The only rooftop and the best firework viewpoint on Kata Beach. This December 31 prepare for a fresh, fun, lively, sporty and energetic beach club at Super Surf Kata. Countdown with us and DJs Kimmi, Loya and Train Widewalker
with The best firework viewpoint and wonderful entertainment on Kata beach!
Location: Kata Beach
Address: 4 Soi Pakbang, Karon, Mueang Phuket District, Phuket 83100
Open: 10 am – 10 pm
Phone: 091 914 5546
Facebook: https://www.facebook.com/supersurfkata
9. Rooftop Bars (or anywhere high above Patong)
Location: Patong Beach
Phuket doesn't have fantastic rooftop bars like Bangkok, but things are changing fast. Since Patong always has the most impressive fireworks, picking one of the rooftops is best. You are lucky if your hotel has a high floor facing the ocean. If not, The Kee Resort and Surface at La Flora resort have good panoramic terraces to drink and celebrate in style. Note that these rooftops are quite small and will probably be crowded too. Read more
10. Your Hotel Poolside
New Year's eve is the golden night for most hotels in Phuket. Room rates are high, and the gala dinner by the pool is often compulsory (and expensive). Check online before you book to know if your hotel does or does not include that compulsory dinner with a show. It's not bad, but some visitors prefer to party out there.
Location: Bangla Walking Street in Patong Beach
Illuzion is the largest and most popular club in Phuket. This is the place to party if you like your night to be loud, with a massive sound system, great DJs, and great stage performance. Read more
12. Paradise Complex
Location: Patong Beach
Paradise Complex is Phuket's main gay party area. It's colourful, fun and friendly. Everyone is welcome, gay or not.
---
---
---
You may also like