---
10 Really Cheap Things to Do in Phuket (For Fun!)
---
Phuket on half a shoestring? That sounds cliché or impossible! So just for fun, you can try the 10 items below and come back with a pretty fun story to tell.
---
1. Sleep at On On Hotel (it was 150, now 450 Baht)
Internationally known for the movie 'The Beach', this cheap hotel actually looks like what you saw in the movie. Very well located in the historical streets of Phuket Town, it could have taken advantage of its fame, but no, it's still looking as cheap. Unfortunately, the On On hotel was renovated in 2013, so I guess I have to find something new to add here… but it's still a good value! See more photos.
Phuket 101 receives 250,000 monthly visitors on average (500,000 pageviews/month).
If you wish to advertise on this space or other options available on Phuket 101, just contact us.
2. Get a Local Haircut (70 Baht)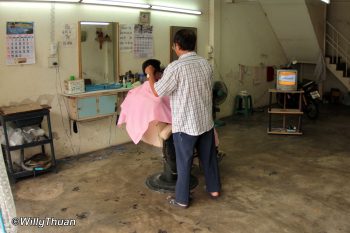 Knowing the price of a haircut in Phuket in general, here is one of the cheapest hair salons in town for only 70 baht; you too can look like a schoolboy! Surprisingly they will even shave your ears and your forehead, I tried. (now, if you are looking for a proper haircut, head to Central Festival Phuket)
3. Watch a Kung Fu Movie at the Temple (Free)
Local temples usually offered free entertainment to citizens when not everyone had LED TVs, not to mention the internet. It's deafening, the image can be horribly scratched, but no teen can resist a good Kung Fu movie! Sometimes located at dangerous curves (top of Patong Hill!) or set for someone's funerals right next to your house. Free Kung Fu action all night! Yay! The movie in the photo was 'Lord of the Ring' though 😀
A big-time Thai favourite is 'Moo Ka Ta', which means 'Pig on Pan' is a 'Cook-it-yourself-all-you-can-eat-barbecue-slash-steam-boat'. Buffets display raw meat, fish, veggies or processed 'things' to take back to your table and cook. Venues are packed, especially on weekends and charge for leftovers! So take only what you can eat. I guarantee that you will smell smoke after dinner and everyone will know where you have been! Read more
5. Second Hand Shoe Shop!
(Price is up to your bargain skills)
We talked about this one at Phuket WeekEnd Market. I don't personally know anyone who bought shoes from a second-hand shoe shop. Please do send us your story if you did! If you got your shoes stolen once, you might find them here.
---
6. Massage by the Blind (2 hours 200 Baht)
If you are not familiar with massage, this might surprise you. Traditional massage is part of Thai life as much as going for a haircut. However, blind massage is more unusual, and it is supposed to be effective, especially when you have sore muscles. Masseurs can spot your problem and fix it better than anyone. But, be warned; it can be painful! But no pain, well, you know.
7. Fitness at the Park or Tesco Lotus (Free)
You can join the aerobic class at Tesco Lotus or even in front of The Bangkok Phuket Hospital every day at 6 pm for free, or use the new set of free fitness equipment at Suan Luang Park on Chaofa road, just outside Phuket town on the way to Chalong.
After a severe price investigation, this is the cheapest possible shop in town. Even shops shop here! And it is also about how you can get lost in their fantastic maze of everything you need for your daily life or local business. An experience in itself. Note that SuperCheap was burnt down and is currently being rebuilt (Read all about Super Cheap)
9. Get your Wedding Dress done in Town (5,550 Baht!)
Maybe a wedding dress is too serious a subject to have done at such a low price. But you will be surprised what local tailors can do with a little budget! Yes, the dress in the middle of the photo costs 5,500 baht and a Tuxedo with fancy white shirt costs… 3,500 baht! We found this shop called 'Mueyium' (means Great Skills) at the intersection of Yaowarat and Phang Nga Road in Phuket town… Looks good from the outside but decide for yourself… small budget and quality don't necessarily go together!
10. Party Cheap with a Bucket (150 baht)
A fun way to have a party and no memory of it the next day is the famous 'Bucket'. For only 150 baht, you can get drunk and wake up the next day in the situation of the movie 'the Hangover', with a major headache as a bonus. Made of 'Mekong' or 'Sang Som', two popular Thai whiskies mixed with 'Red Bull', soda or basically anything you can think about and lots of ice. Very popular and often advertised at bars in Soi Bangla!