---
A local restaurant near Kathu Waterfalls
---
Krua Pai Lin Restaurant (Sapphire) is a good and real local restaurant just before reaching the Kathu Waterfalls in Kathu, a great spot to stop over for a fun lunch after your little exploration. Krua Pai Lin is a typically local Thai restaurant; great to try something different and good, just the way Thai people like it. It was nothing fancy, just great food and chickens walking casually around the tables.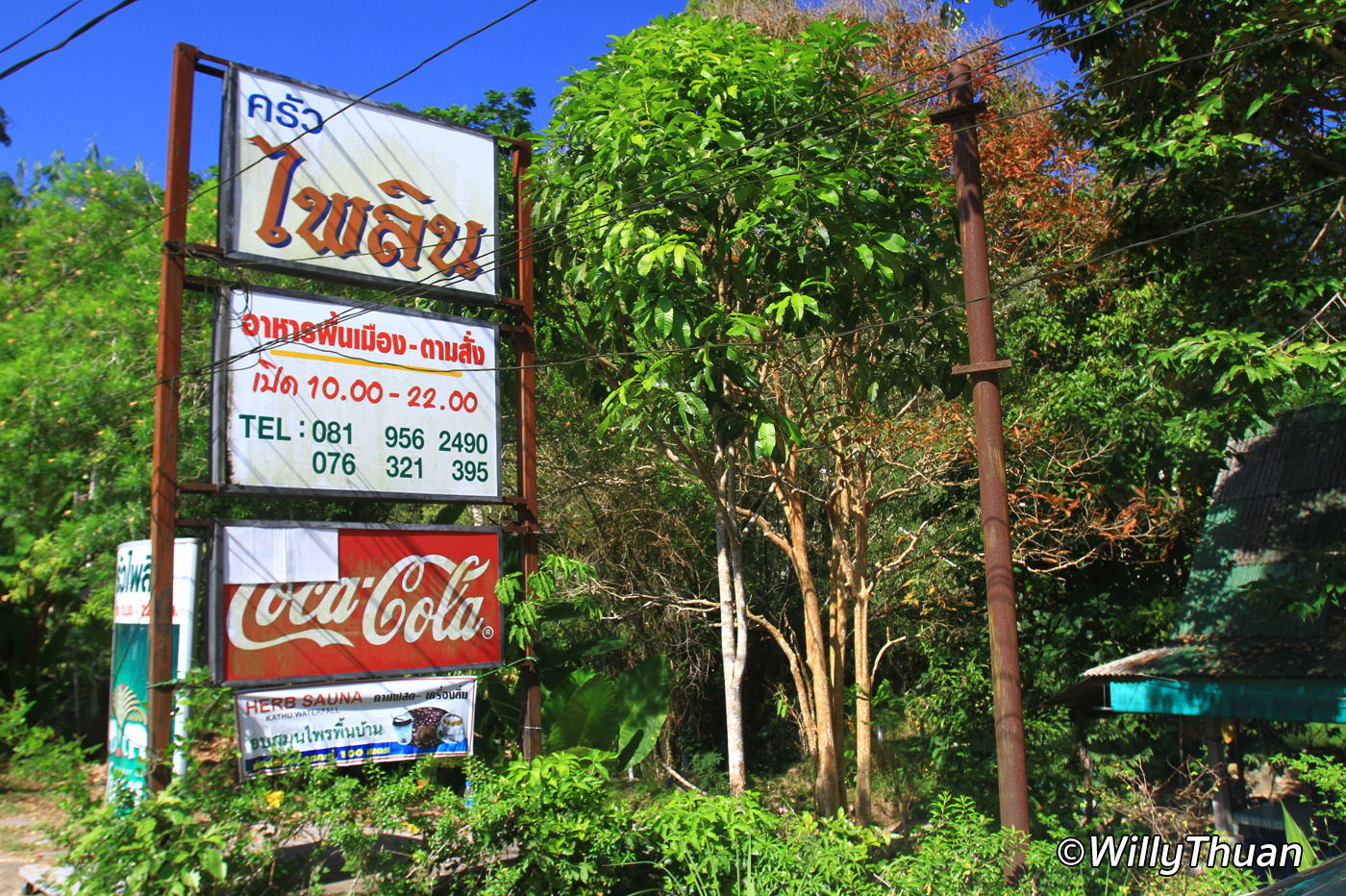 The place does have an open kitchen, just like trendy restaurants have nowadays, and you should go have a look; the family cooking and running the restaurant is warm and friendly. If you decide to experience local cuisine, don't go for classic dishes like I did the first time. they'll be good but not memorable. Instead, go overboard and try things you can talk about once home. Here are the dishes we tried, and they were excellent.
'Moo Pa Pad Ped' (Wild Boar Curry) is our favourite; the taste and consistency of the meat are unique. 'Nam Prik Phuket' (assorted boiled veggies with a spicy shrimp paste) is a local favourite and was good, less intense than in other local shops, which we usually don't like. Next, the 'Kra Doo Moo Tom Cha Muang' (Pork soup with sour leaves) was delicious; the leaves give the soup a light and unusual sour taste. Then 'Pla Bilang' (Small deep-fried fishes), deliciously crunchy without being too dry.
Last but not least, the 'Kai Mod Daeng Kua Glua' (Fried red ants eggs) might be the most challenging; you really can see the ants and the big plump eggs. It was very nice. I guess I have been in Thailand long enough to overcome the natural hesitation from our occidental education. The same dish also comes as a salad which tastes even better.
---
More photos
---
Krua Pai Lin Info
Location: Kathu
Address: 38/12 ถนนวิชิตสงคราม Kathu, Kathu District, Phuket 83120
Hours: 10 am – 10 pm
Phone: 081 956 2490
---
Krua Pai Lin Map
---
More reading