---
What to do at Kathu waterfall?
---
Kathu waterfall is small but can be attractive during the rainy season when the strong stream and the tropical vegetation are dense and green. It is more pleasant than the higher Tonsai and Bang Pae Waterfalls, and access is free of charge.
The Kathu waterfall can be disappointing if you don't know which way to walk and when to go. For a long time, we thought it was just a tiny trickle, and most people would agree; that this cascade isn't worth a visit. But something wasn't right, and we decided to give it a second chance, and we were right to do so: Kathu waterfall can be worth a stop, as long as you go during the rainy season!
The waterfalls are divided into two areas. The one on the left is not much more than a stream of water, creating a natural pool where kids love to play. The real falls are on the right from the parking, past a small bridge and up a 130 meters staircase.
This first level of Kathu Waterfall is beautiful during the rainy season; a nice steady flow of water cascading down the rocks creates a sizeable sandy pool. But don't stop there; the second level, still accessible via a concrete path, is smaller but more natural. Teens love to hang around this one, picnicking and having a good time.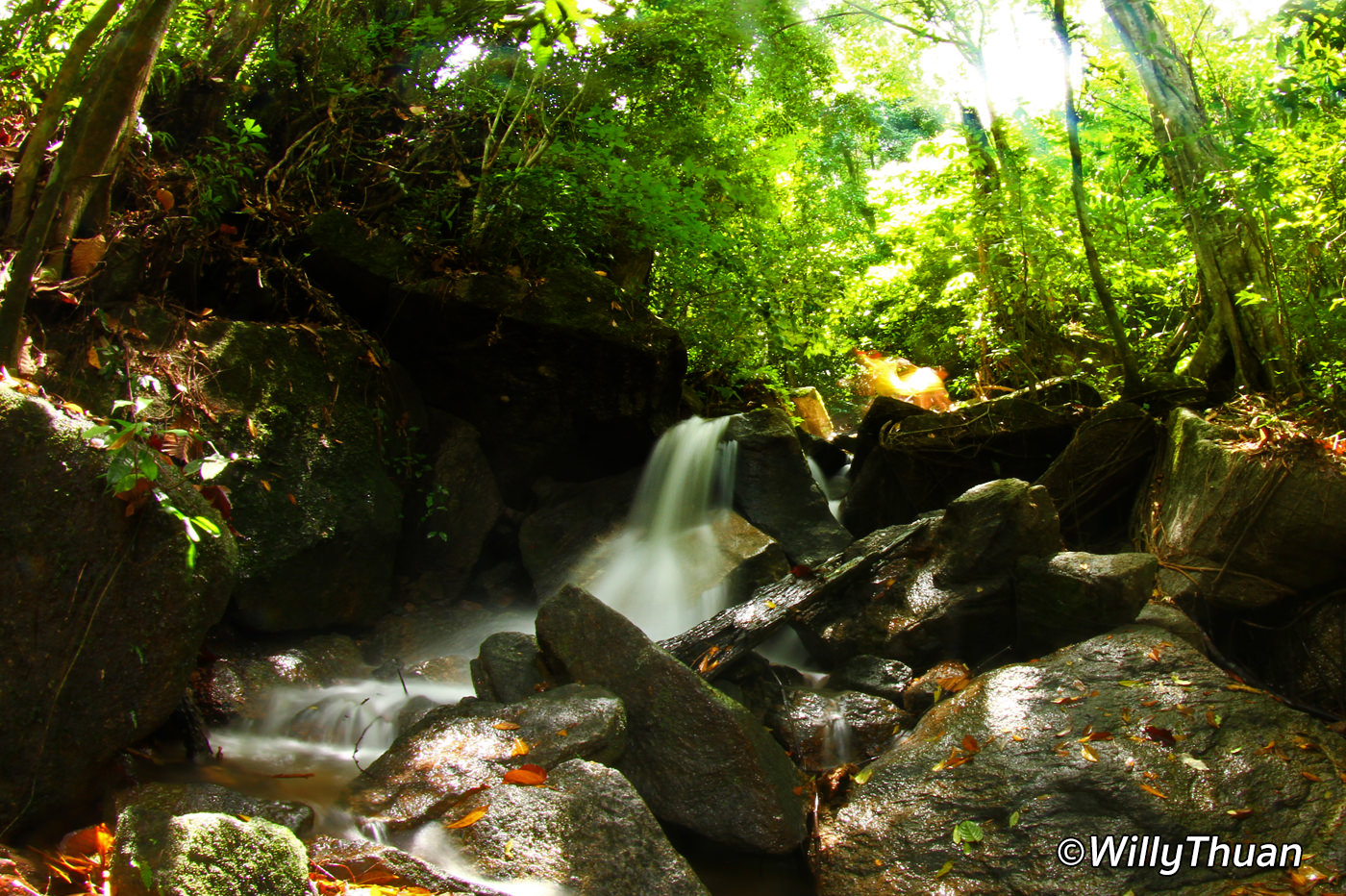 If you are courageous, go to the third level using a dirt trail and the fourth but it requires rock climbing. These two later cascades are not big but refreshing in the green shade of trees.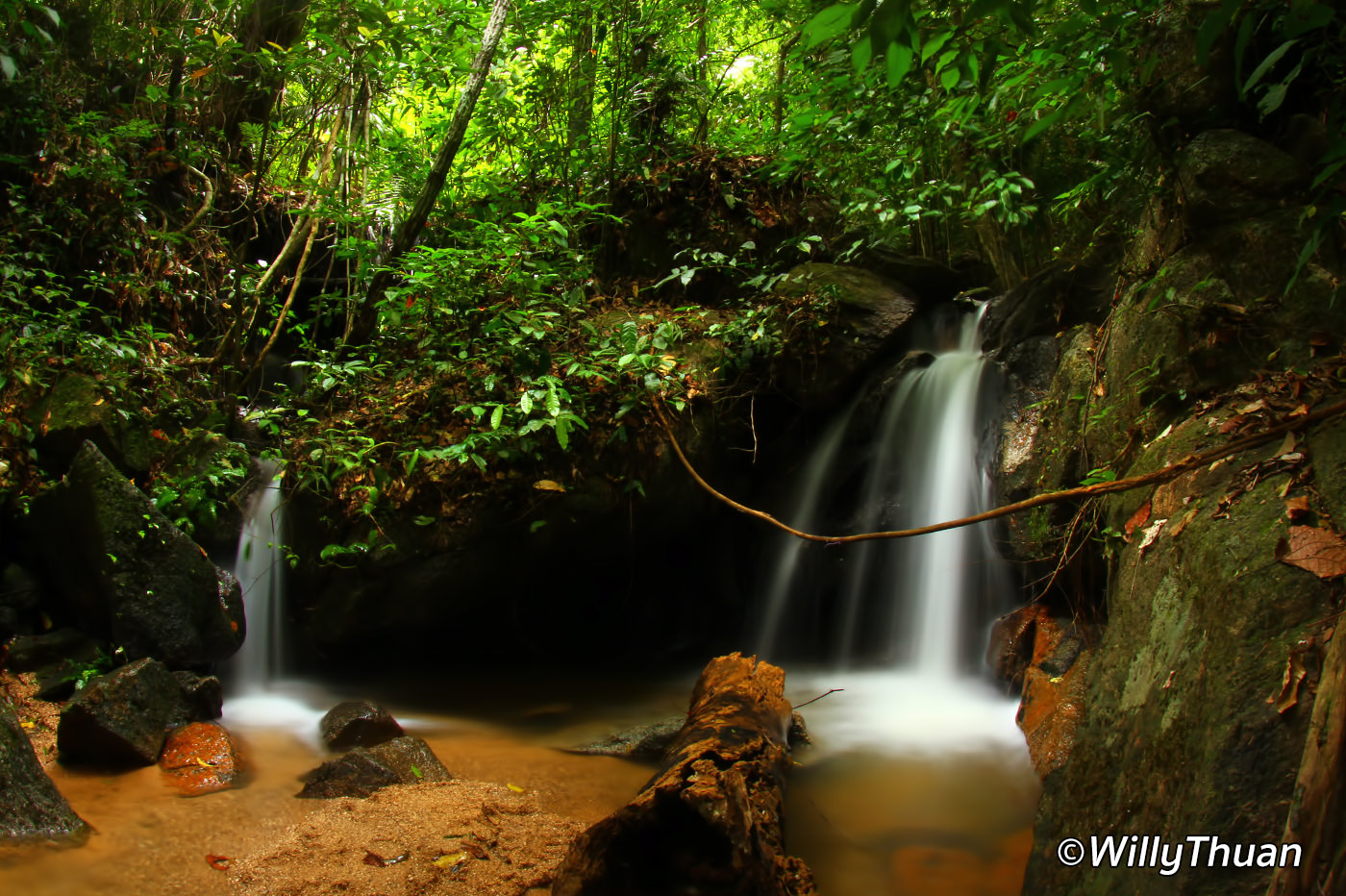 ---
Photo Gallery
---
Where to eat near Kathu Waterfalls
---
Jungle Café
Address: Kathu waterfall, Kathu District, Phuket 83120
Hours: 10 am – 8 pm (Wednesday closed)
Phone: 085 692 5259
Facebook: https://www.facebook.com/JungleCafeKathu/
Phuket 101 receives 250,000 monthly visitors on average (500,000 pageviews/month).
If you wish to advertise on this space or other options available on Phuket 101, just contact us.
---
Once done with your jungle walk, consider having lunch at the waterfall restaurant named 'Pai Lin Restaurant' (Blue Sapphire). Pailin is a typically local Thai restaurant; great to try something different and good, just the way Thai people like it.
---
What to do around Kathu Waterfalls
---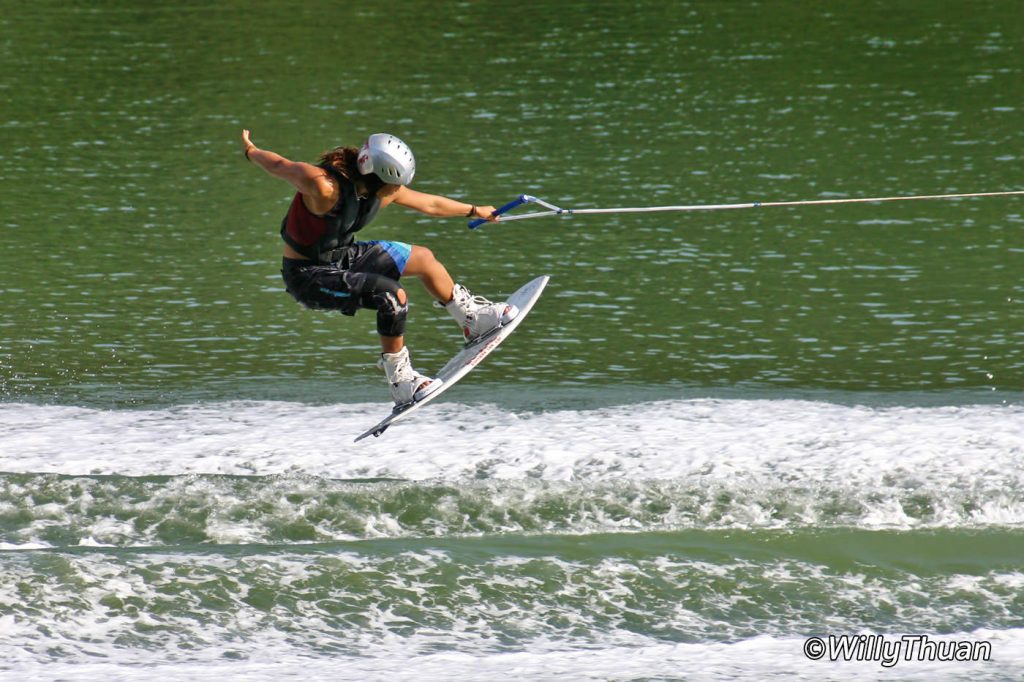 The most exciting activity near Kathu Waterfall is the Phuket Cable Ski, a fun but pricey attraction, great for almost anyone from kids to adults. For 700 baht an hour, you can practice on a kneeboard around an oval-shaped lake, then once you are confident, try to stand on a wakeboard pulled by a cable moving at 26 km/h. It is quite intense and gives a great adrenaline rush. It also seems quite impressive when you fall off a few times before standing up on a board, but it is never painful.
---
---
---
Kathu Waterfall Info
Location: Kathu
Address: Soi Namtok Krathu, Kathu District, Phuket 83120
Open: 24 hours
Price: Free
---
How to get to Kathu Waterfall?
Kathu waterfall is roughly halfway between Patong beach and Phuket Town, at the end of a street called Soi Namtok Krathu. You can easily get there by tuk-tuk, taxi or self-driving.
From Patong Beach to Kathu waterfall: 8 km
From Phuket Airport to Kathu waterfall: 37 km
From Phuket Town to Kathu waterfall: 12 km
To get the directions to the beach, open this Google map and click on 'directions' or click on save to use it once in Phuket ▷ https://goo.gl/maps/MXHM8MSNbpeknp6t7.
---
Kathu Waterfall Map
---
What's Around?