What to do in Bang Tao Beach?
Guests staying at any of the Laguna Complex resorts or in hotels in the Cherngtalay area can enjoy a wide range of things to do in Bang Tao Beach and around. Many activities are available at the Laguna hotels: sailing, kayaking, archery, immense swimming pools, massages, and amazing spas. Usually, if you are a guest of one of these resorts, you can use the facilities of any other hotel in the group. Besides, beach clubs are back in Phuket, and Bangtao has no less than three now. Those beach clubs are also a great way to spend the day and party at night. More inland you can have fun a the water park, the mini golf or even rock climbing.
The Beach of Bang Tao
Bang Tao Beach is a long and wide crescent-shaped beach located on the west coast of Phuket Island in Thailand. The beach is around 6 kilometres (3.7 miles) long and is known for its soft, white sand and clear turquoise waters. It is a relatively quiet and peaceful spot compared to some of the more popular beaches on the island. Here you can enjoy the rare luxury of eating at local restaurants or drinking at small bamboo bars on the beach or even enjoy one of the modern beach clubs.
Phuket 101 receives 250,000 monthly visitors on average (500,000 pageviews/month).
If you wish to advertise on this space or other options available on Phuket 101, just contact us.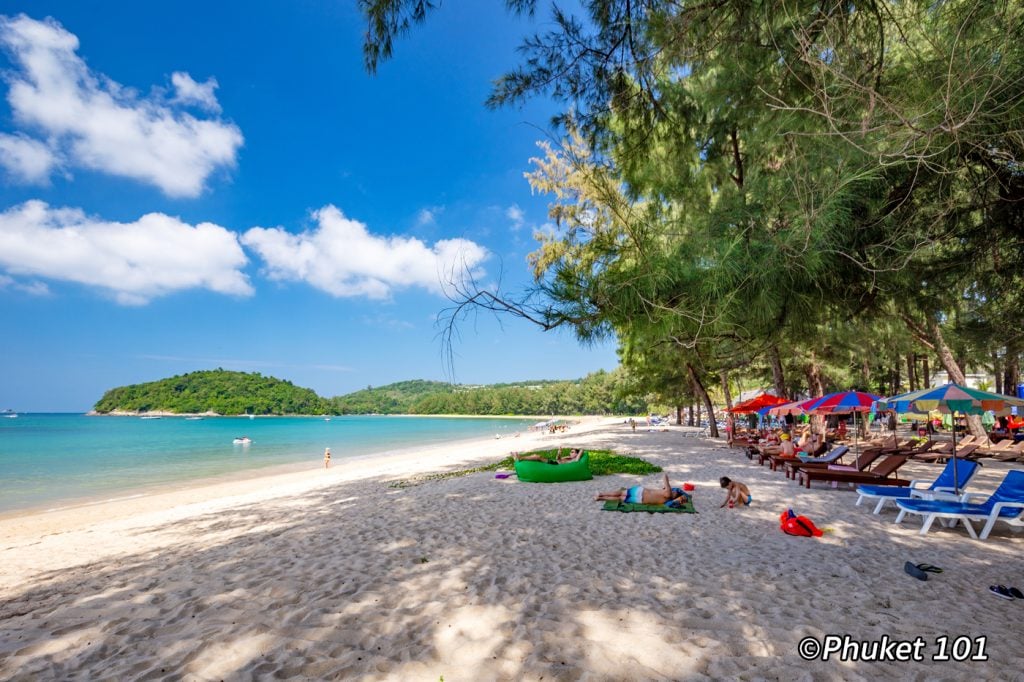 Layan Beach is a secluded and serene beach located on the west coast of Phuket Island in Thailand, close to Bang Tao Beach. The beach is around 2.5 kilometres (1.5 miles) long and is known for its soft, white sand and crystal-clear waters during the high season. It is a less crowded and quieter spot compared to some of the more popular beaches on the island, making it an ideal spot for relaxation and privacy. The beach is surrounded by lush green hills and lined with tall casuarina trees, providing plenty of natural shade.
Blue Tree Phuket is a large water park and entertainment complex located in the Cherng Talay area, near Bang Tao Beach. The park covers an area of 10 hectares and offers a wide range of activities and attractions for visitors of all ages. The water park features multiple pools, water slides, and other water-based attractions such as a wave pool and a lazy river. There are also various other activities available, including a zip line, a rock climbing wall, and a trampoline park. In addition, the park has a range of dining options, from cafes and food trucks to upscale restaurants.
Address: 4/2 Srisoonthorn, Cherntalay, Phuket 83110
Open: 10 am – 6 pm
Phone: 076 602 435
Price: 950 baht for adults, 350 Baht for kids
Facebook: https://www.facebook.com/BlueTreePhuket/
Ma Doo Bua Phuket is a restaurant and cafe situated on the eastern side of the well-known Bang Tao Beach. Its primary appeal lies in the presence of an artificial lake covered in unique, large circular leaves known as Victoria Amazonica, the most substantial water lilies from the Nymphaeaceae family. The spot has become popular with the new generation of photo enthusiasts and Instagram users, who are drawn to its picturesque background.
Location: Cherngtalay (not far from Bangtao Beach)
Address: 310/51 M.1 Baandon-Cherngtalay Road Thalang District, Phuket
Open: 11 am – 10 pm
Phone: 063 593 9939
Price: Affordable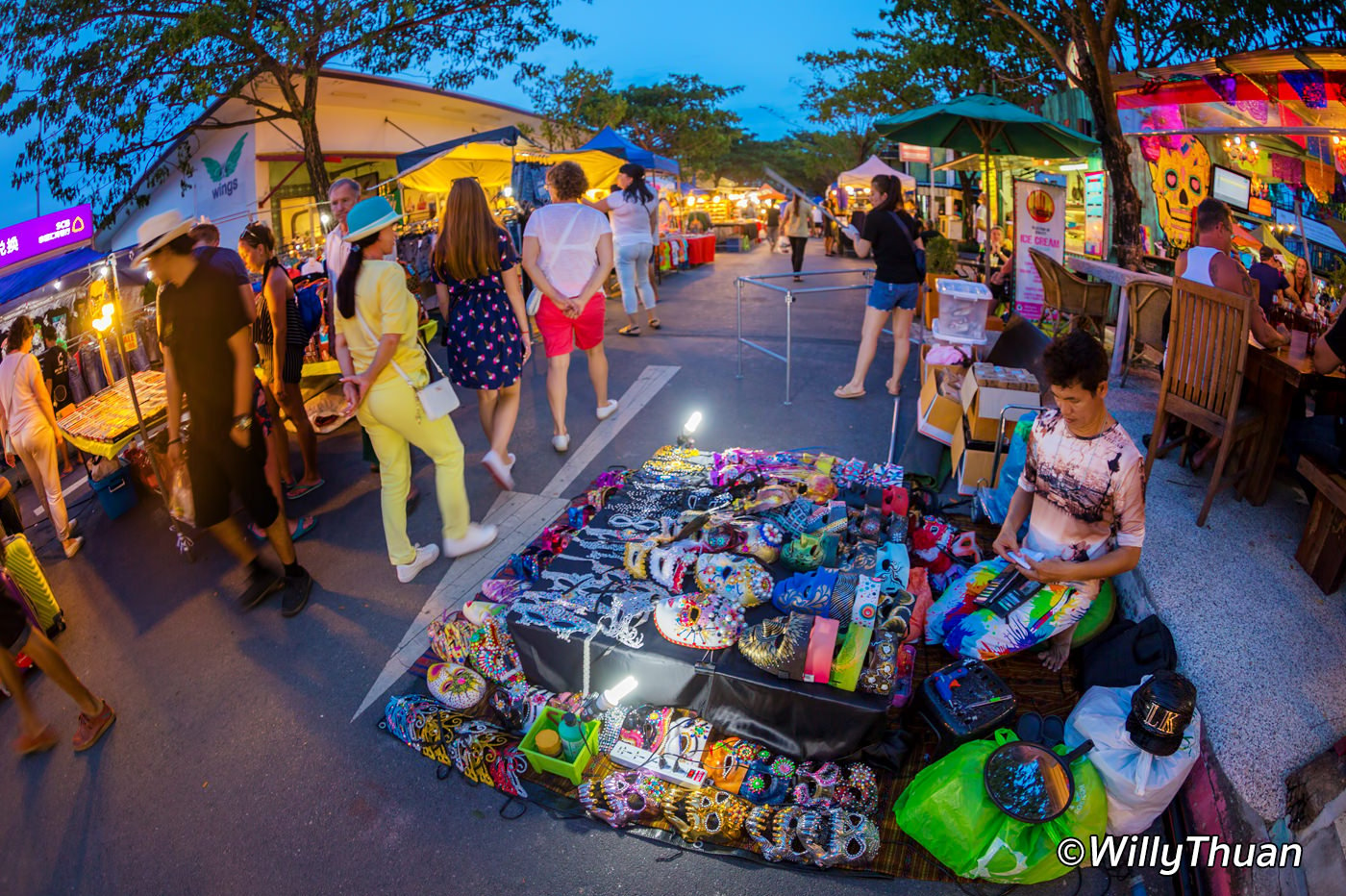 Located on the way to Phuket Laguna, the Fun Friday Avenue Market is a weekend market that opens every Friday evening at Boat Avenue. Although it is small, it's worth a visit if you are staying in the Bangtao Beach area. Night markets are a typical part of Thailand's culture, and they usually draw crowds and offer a wide range of food options. Boat Avenue is a neighbourhood that comprises shop-houses and restaurants situated near Tinlay Place.
Stand Up Paddleboarding is a well-established sport in Phuket and remains one of the world's most popular water sports due to its versatility and range of recreational uses, such as fitness, fishing, yoga, racing, and surfing. The sport is suitable for all ages and skill levels, and its user-friendly nature allows everyone to partake in and enjoy Stand Up Paddleboarding in Phuket.
Address: Bangtao Beach Lazy Coconut, Choeng Thale, Thalang District, Phuket 83110
Hours: 8 am – 5 pm
Phone: 082 519 3282
Eat, Drink and enjoy Sunset on the beach!
Towards the southern end of Bang Tao are several small restaurants that are situated right on the beach, providing a beautiful and relaxing atmosphere to enjoy lunch and dinner. Most of these restaurants have simple bamboo tables and chairs, and colourful umbrellas that add to the vibrant ambience of the beach. Visitors can take a seat at any of these restaurants and enjoy the stunning view of the sea while they dine. While lunch is an ideal time to visit, the experience is even more exceptional during the evening when visitors can enjoy a refreshing drink and witness a breathtaking sunset.
Catch Beach Club Phuket is a trendy and upscale beach club located on Bang Tao Beach in the Cherng Talay area of Phuket Island in Thailand. The beach club offers a luxurious and stylish setting for visitors to relax, dine, and socialize. The club features a large outdoor area with sun loungers, daybeds, and umbrellas, as well as a swimming pool and direct access to the beach. The venue has bars where visitors can enjoy a range of cocktails and other drinks and a restaurant serving a variety of Thai and international cuisine. Catch Beach Club is known for its lively atmosphere, with regular DJ performances and events taking place throughout the year.
Address: 202/88, Choeng Thale, Thalang District, Phuket 83110
Open: 9 am – 2 am
Phone: 065 348 201
Located at the southern end of Bang Tao Beach, Carpe Diem is the newest addition to the beach club scene in Phuket. The club is known for its Mediterranean and Italian dishes, along with a variety of creative cocktails and an extensive list of fine wines. While the beach itself is not ideal for swimming, the long-tail boats floating in front of the restaurant add an authentic Thai element to the scenery. Visitors also seem to enjoy taking playful photos for Instagram amidst the tropical backdrop.
Address: 99/1 Bangtao Beach Road, Choeng Thale, Thalang District, Phuket 83110
Hours: 12 pm – 11 pm
Phone: 065 058 5388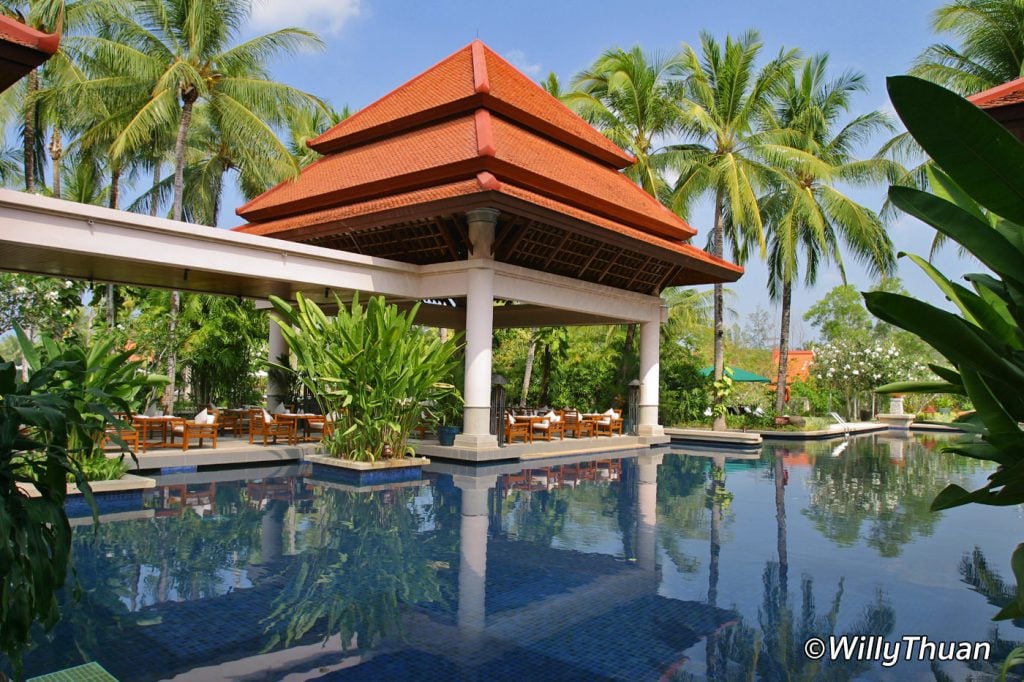 The Laguna complex has always been home to Phuket's best spa resorts and wellness centres, including Banyan Tree Spa and Angsana Spa. If a hotel's spa treatment is above your budget, there are several good massage huts available right on the beach for about 300 baht!
Phuket Adventure Mini Golf
Phuket Adventure Mini Golf is a family-friendly entertainment venue located in the Bang Tao area. The venue features an 18 holes miniature classic championship golf course and a restaurant serving Thai and international food, as well as a bar serving drinks and snacks. Phuket Adventure Mini Golf is a popular spot for families and groups of friends looking for a fun and relaxed day out.
Address: 72/44 Moo 3, Bangtao Beach Road, Soi 2 Cherngtalay, Talang Phuket, Phuket 83110
Hours: 11 am – 11 pm
Phone: 076 314 345
Facebook: https://www.facebook.com/phuketadventureminigolf/
With its impressive 3-story, 700 sqm indoor walls, REBEL Rock Climbing offers a great opportunity for climbers of all skill levels, from children to adults and beginners to experts, to practice their techniques on top-rope walls, boulder walls, lead climb walls, boulder caves, and top-out boulder walls.
Address: 194/6 M.7 Srisunthorn Road, Talang, Phuket 83110
Open: Tuesday – Sunday, 10 am – 8 pm (closed on Monday)
Phone: 076 608 734
Wat Choeng Thale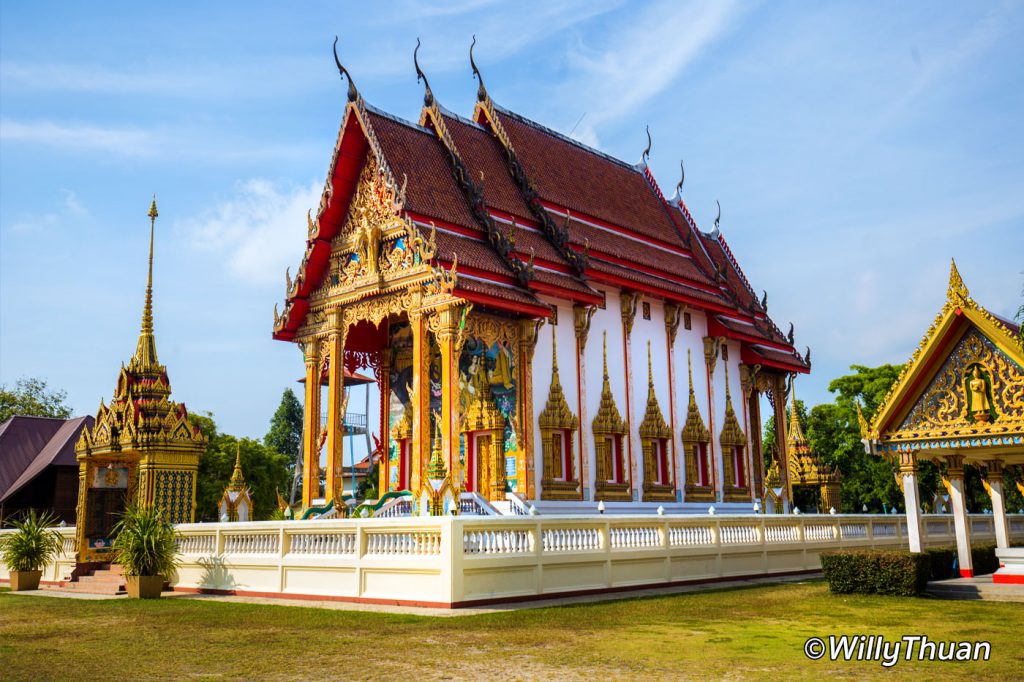 Wat Choeng Thale (or Wat Cherngtalay) is a little far from the beach, but it is a beautifully decorated temple to photograph, especially if this is your first visit to Thailand.
---
---