---
A selfie-dedicated restaurant in Phuket
---
Ma Doo Bua Phuket is a cafe and restaurant whose sole purpose is to provide an irresistible background to the new generation of selfie lovers and Instagrammers. The main catch is an artificial lake covered with those unusual giant circular floating leaves called Victoria Amazonica, a species of flowering plant, the largest of the Nymphaeaceae family of giant water lilies. Ma Doo Bua is located on the east side of the popular Bang Tao Beach.
Around the lake, traditional Thai wooden houses with pointy roofs add a beautiful red touch to the photos, quite a striking background when the sky is blue. A long pier allows the selfie 'models' to walk away from the busy restaurant and pretend to be in a local village.
The resulting photos are beautiful, but the reality behind the photographer is a little different, as it often is on Instagram: there can be a queue to stand on that pier waiting for their turn! While it looks peaceful in the foreground, there is a little crowd of people eating and playing with their phones behind each photographer.
---
The restaurant
The restaurant consists of three areas: the indoor room with air-cond, an outdoor covered area with tables and chairs, and an outdoor terrace where customers sit on cushions around low tables, which is quite lovely.
---
The food
The restaurant serves good Thai food. People's main motivation to visit Ma Doo Bua is first for the photo playground, to enjoy the food, and to keep themselves busy before and after their photoshoots. The food is Thai and often local since the target clientele is mainly based in Phuket, at least for the first year, as the novelty has a relatively short life span nowadays.
You can order a Rad Na (stirred flat noodles in thick gravy) for 120 baht, fried rice in a pineapple for 180 baht, or Gai Phad med Ma Muang (stir-fried chicken with cashew nuts) for 135 baht. The classics Tom Yum Koong and Tom Ka Khai are 175 baht. The menu is a chance to try some real Phuket specialities: Moo Hong (Pork belly) 185 baht, Goong Pad Nam Ma Kham (Prawn in tamarin sauce) 250 baht, and if you are brave enough: Moo Pad Kapi Sa Tor (fried smelly green beans with shrimp paste) 175 baht. The good old Phad Thai costs 170 baht.
---
The drinks
To give you a range, local beers Singha or Chang cost 85 baht, Heineken 95 baht, Stella Artois 195, and Beer Lao Dark 195. Wine comes in bottles starting at 1,290 baht, carafes 550 baht, or glasses 220 baht. Prices already include tax and service charges. We didn't write down so much this time, so we'll have to return.
---
Verdict
Ma Doo Bua can get busy on weekends, especially on Sunday afternoons. We had to wait half an hour to get a table as seven people waited in front of us! This is the 'novelty' phase, but once locals get their pretty selfies posted, they might not visit a second time. It is a great background for that romantic tropical photo you want to post on your Instagram account. Just try to come on weekdays and remember, it's quite far from Patong and Kata beaches.
---
Drone Selfies (rate card from the restaurant)
If you want to take a couple of unique and unforgettable photos of yourselves, Ma Doo Bua offers two photo options that you can't do by yourselves. A drone photo of you lying in that wooden Thai boat and a picture of you standing in the middle of a floating leave. The drone photo starts at 500 baht for one person, 800 for 2, 1,000 baht for 3 and 1,200 baht for four persons. Standing on leave costs 350 baht.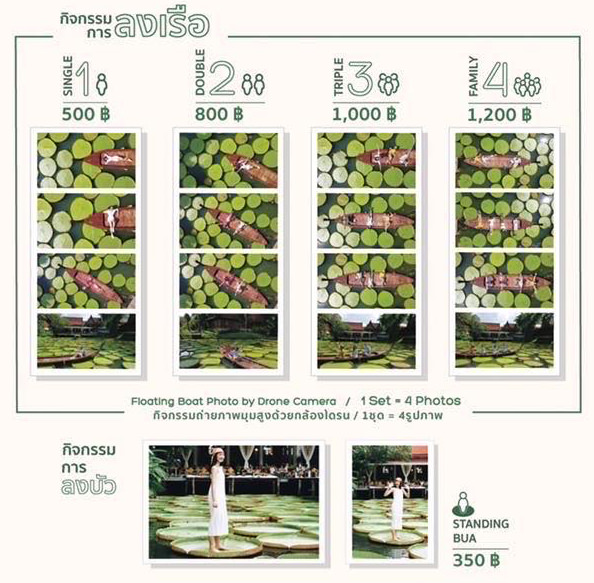 ---
More photos of Ma Doo Bua
---
---
More Instagram playgrounds
Phuket Plane Spotting – Where to See Planes Landing in Phuket?