Suzy Wong's A Go Go in Patong Beach
Suzy Wong's is already an icon of Soi Bangla nightlife, and you can't visit Patong without visiting them. A great deal of effort was given to the new bar facade with its bright red Chinese decoration and massive door. Despite being the last bar in the Soi Seadragon, you won't walk by without being intrigued. But Go-Go bars are not only about beautiful facades, so you'll ask what makes this one different from any other Go-Go bar?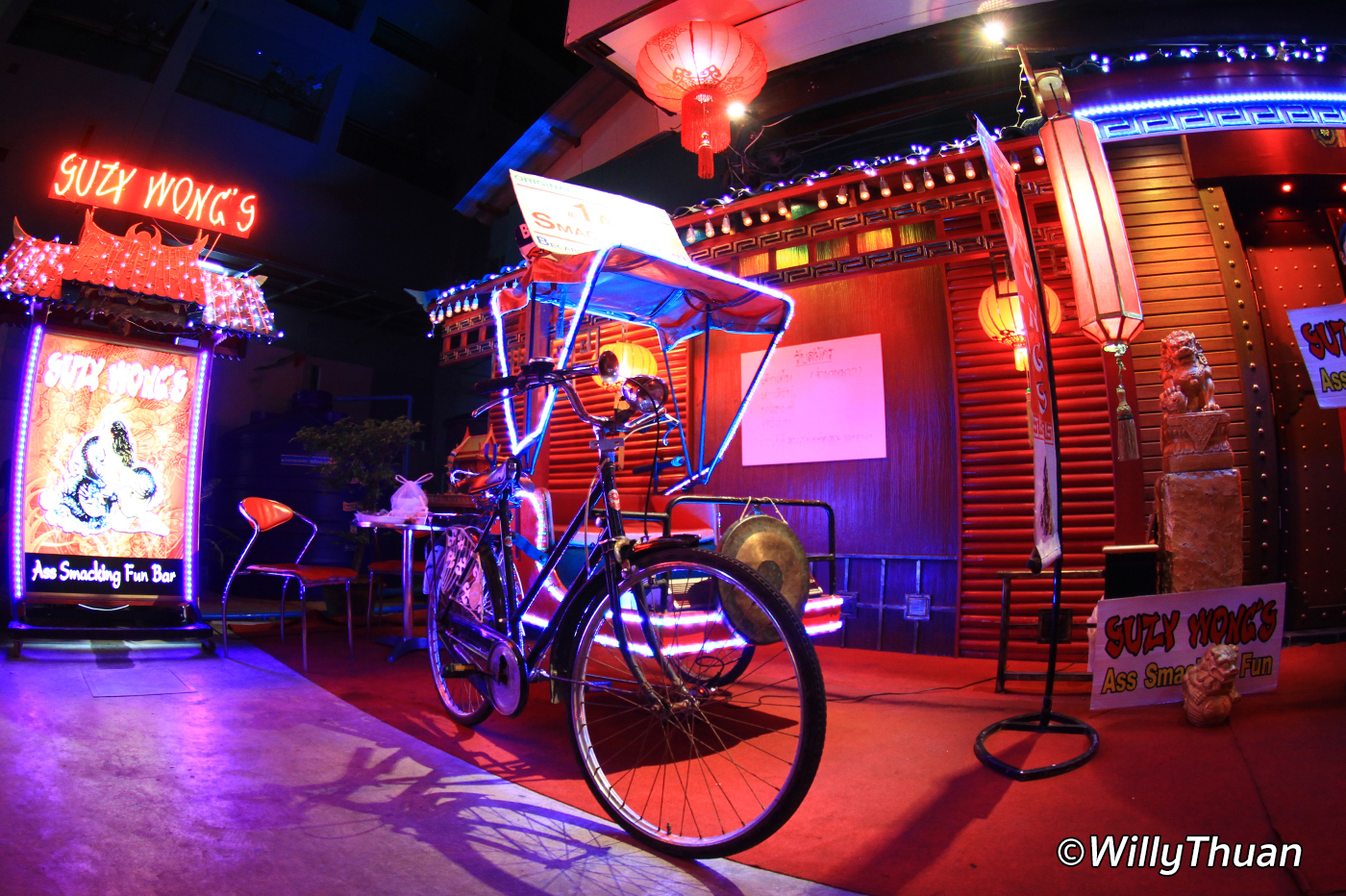 Once inside, the Chinese theme is less evident except for the waitresses' silk dresses, few masks and swords, and the full blast of red lights that made taking photos so challenging. Just as you would expect, sofas are set around the room and stools surround the centre stage where girls are dancing.
The twist is in the spanking… yes, you did read it right; once inside, you'll get yourself spanked by pretty ladies wearing very little. Past the first shock, you will soon realise that despite making a big whacking sound, it is painless and somewhat entertaining since you can fight back. It's like having a permanent pillow fight mood, but less painful.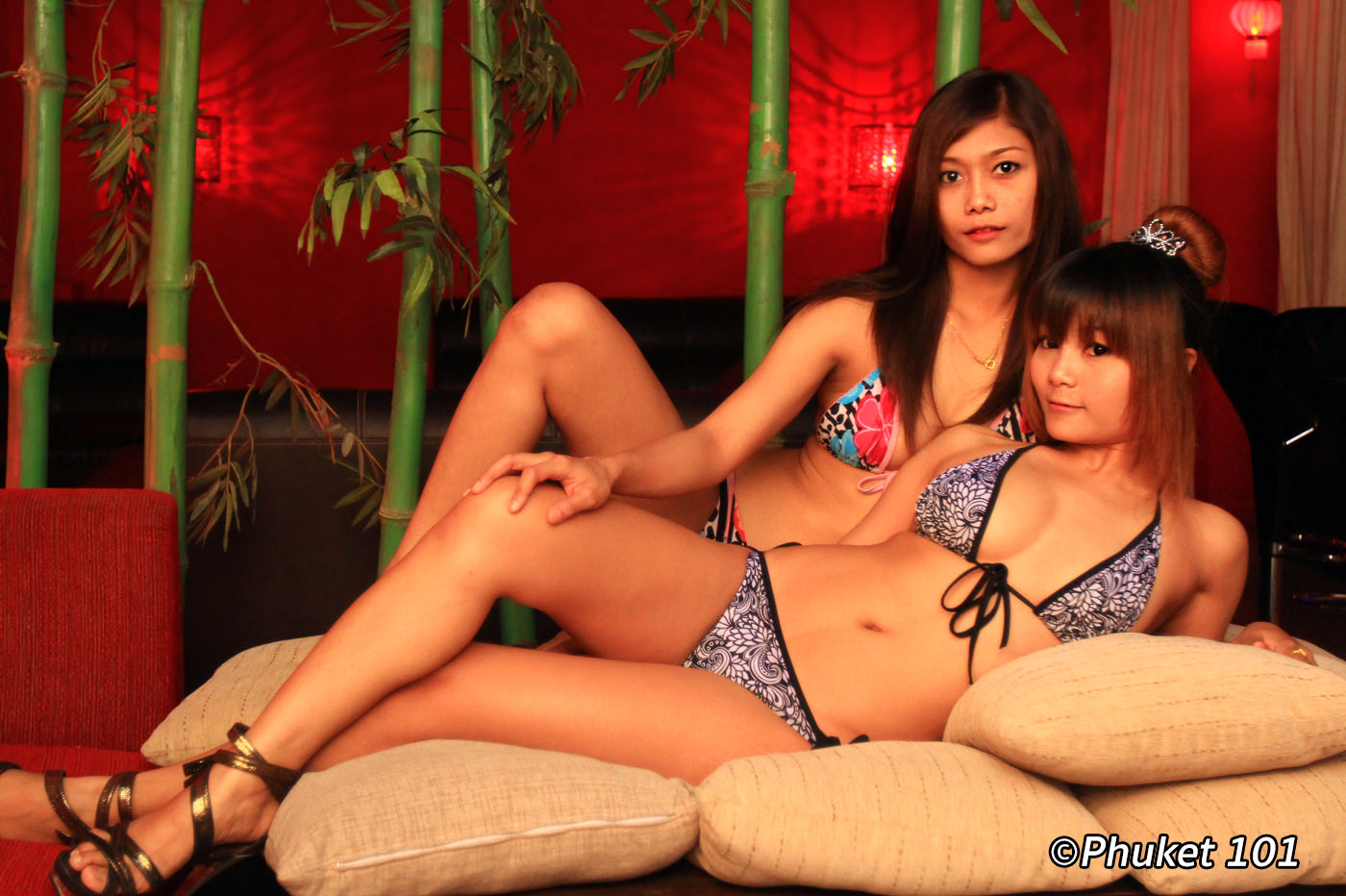 Girls are among the sexiest in Patong. Once in a while, you'll get to see a dance on stage or a sexy show involving two or more ladies, but don't get shocked; the mood is easygoing, and you would be surprised to see how many couples come to have a look… so if you have been reading that far, then you'll just have to add Suzy to your list of things to see on your next visit.
---
Where is Suzy Wong's?
Suzy Wong's is at the very end of Soi Seadragon, from Soi Bangla in Patong Beach. Useful Tip: Don't hesitate to go in; there is no cover charge here, and drinks are at the usual price with the prices written outside or on the menus.
I would not recommend mixed drinks such as vodka tonic or whiskey coke; you might get a lot more Coke than whiskey.
---
Verdict
Without a doubt, Suzy Wong's is still the best Go-Go bar in Phuket. It is quite small compared to the new Harem Lounge and Suzy Wong's 3, but the atmosphere is unique, the team full of energy and the experience is unforgettable.
---
Important Note about Touts:
Touts are not working for bars! Never follow a tout in the street with his little card of whatever he says you will see in the show! It's often not real, and you will be charged extra; just walk away! The bars are easy to find (they are actually difficult to miss!)
---
Photos of Suzy Wong's
---
Suzy Wong's Info
Location: Patong Beach
Address: 23/17-18 Soi Sea Dragon Bangla Rd Pa Tong, Kathu District, Phuket 83150
Open: 7:30 pm – 3 am
Phone: 087 272 2588
Price: Free Entry
---
Suzy Wong's A Go Go Map
If you are on mobile, add the map here: https://goo.gl/maps/uCma6Uez4AvsnRpa6
---
What's Around?