Devil's Playground A Go Go on Soi Seadragon
From the owner of the famous Suzy Wong in the same Soi Seadragon, Devil's Playground 'raise the bar' of Go Go bars to a new level. Right form the outside you can tell that this is not just the usual boring dark room with a central stage and few stools around. Built like a cave entrance with a massive castle door, you'll be welcome to hell by a pretty cute devil with a tiny red skirt and some flashing red horns. Entrance is free so let your curiosity take over this time, you always wanted to know what happens 'Inside a Go Go Bar', so, why not do it in style.
And if you are not into dancing girls, you will see what the creativity of a man with a passion can do from what was just a shop house to a fantasy world. Once inside, what strikes most is the impression to penetrate a massive cave with two levels and a Flintstones like central stage. Lighting is well integrated into the design, gargoyles and statues decorate the place, and on iron cast balconies hosts some pretty dancing angels. I had the chance to see the photos of the construction and as a designer myself, it's great to appreciate a man who draws, gets his hands dirty and executes his vision with his own staff to reach such result. I was amazed.
But let's talk about what you actually came in for… girls are cute, friendly and really funny to chat with if you speak a bit of Thai. The main stage is usually occupied by three or four naughty dancing devils while the second smaller stage is reserved to the angels, but it tends to get blur after 11pm.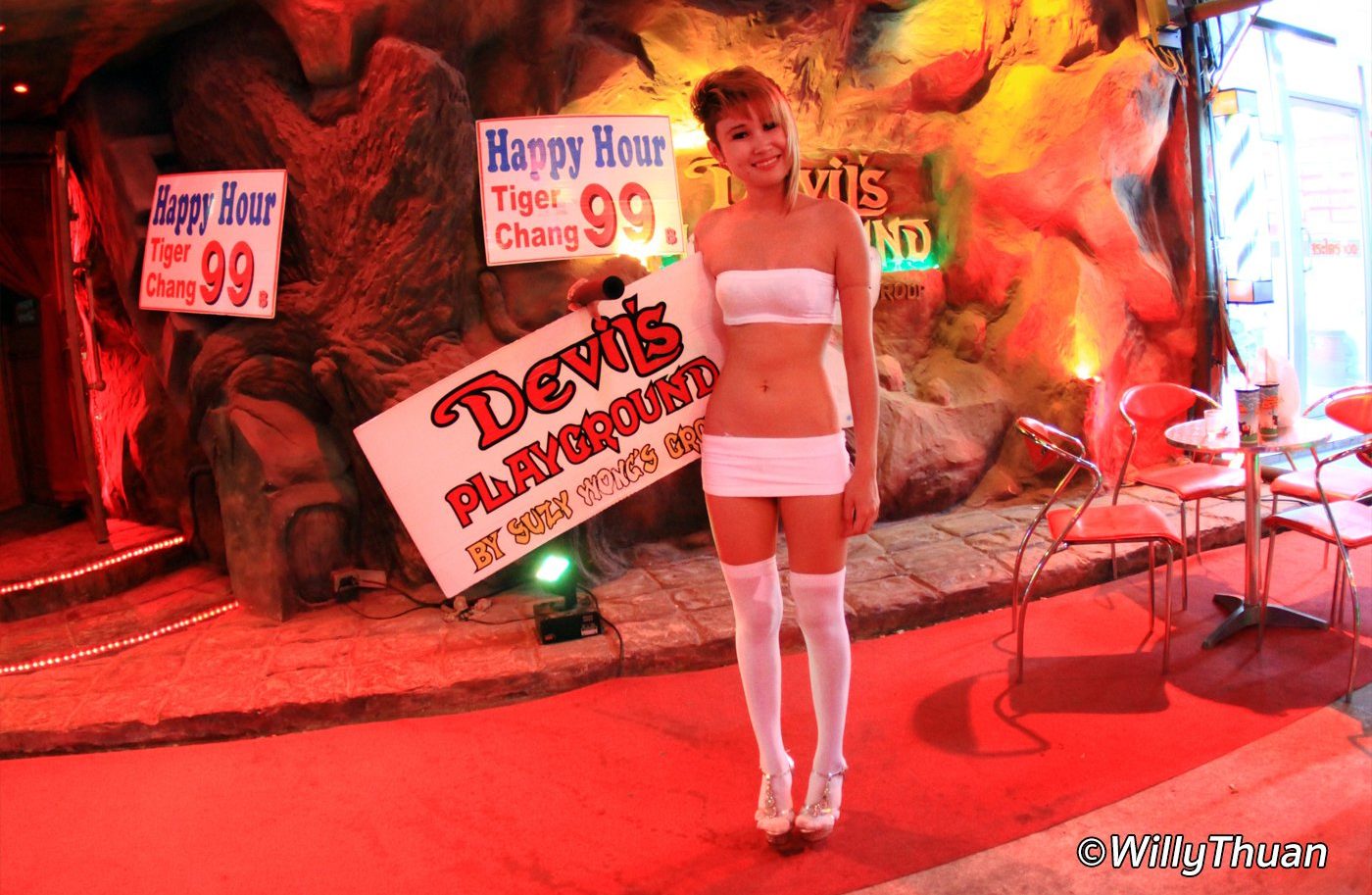 Since Devil's Playground is Suzy Wong's A Go Go youngest sister (or brother?), you can expect some good spanking from the girls, but I never saw anyone running away from it…. it is loud and impressive, but totally painless… except for the jaws once you stopped laughing. Most of the girls are on the devil's side, wearing tiny skirts and horns, plus few chains to put you in the mood and eventually gently poking you with a trident. Then you have the tall angels with their little white outfit and little wings… but beware, don't be fooled by their cuteness, they are as mean as the devils… or even more. (Continue to Suzy Wong's A Go Go)
Important Note about Touts:
Touts are not working for bars! Never follow a tout in the street with his little card of whatever he says you will see in the show! It's often no real and you will be charged extra, just walk away! The bars are easy to find (they are actually difficult to miss!)
Devil's Playground Location Map
What's Around?