About us
Phuket 101 Blog shares 27 years of Phuket exploration and thousands of photos for those who love Phuket as much as we do. This blog shares our real experience. We tried and visited every place, we paid for everything which allows us to keep our honest opinions, and we are pretty strict about this. Phuket 101 was born on January 15, 2011
What does '101' mean?
101 (pronounced "one-oh-one") is the 1st course in a subject taught at a college or university in Australia, Canada, South Africa, or the United States. By extension, "101 is generally used to indicate the basics of any subject".
---
If you wish to contact us, use our Facebook page
---
---
The Origins
Born in France a long, long time ago, I started to travel the world in my 20s and never stopped until I finally settled in Thailand in 1994. I went and worked in 40 countries around the globe. Most memorable are Tahiti, Bahamas, Mexico, Canada, New Caledonia, Burkina Faso, Niger, Algeria, Turkey, Greece, Italy, Sahara, Japan, Vietnam, Cambodia, Australia, The Maldives blah, blah, blah, so my love for Thailand follows a long history of exploring other countries. The four countries I love most are Thailand, Japan, India, France and Italy, all known for their excellent food, because of food matters to us, a lot.
In a previous life, I was Radio DJ, Set Designer in Club Med, and had a successful advertising company in Phuket called Andaman Graphics specialising in logos and website designs.
My passion for photography and my endless curiosity has taken me to many places in Thailand and Asia, living between Bangkok and Phuket. I still travel here and there in the world several times a year, both for fun and for work.
---
Why Thailand?
I was a set designer in Club Med for several years. My job was to build and set the stage for daily shows, switching it every night on a 15 days basis. That was quite physical but always fun and creative. With Club Med, you get to change country every six months or every year, which allows you to travel a lot. I had a lot of free time which I used to explore a lot of countries.
In 1993 I was working in Tahiti when I decided it was time to do something else. My dream was to live in Japan, but at the time, the Japanese economy wasn't right, so I decided to pick a random place in Asia for a couple of years, anywhere in Asia. That's how I arrived in Thailand. It was an arbitrary choice. It was 26 years ago.
In Thailand, despite the moaning of some negative people, you get the best of all worlds (Read this: 10 Reasons Why We Can't Leave Thailand)
---
How did I get a job?
When I landed in Phuket, I had no job, little money, a suitcase and a camera. I had no plans and no friends in Phuket. I first picked a small guesthouse in Soi Sansabai Patong Beach called Swiss Garden (it's still there). From there, I started to write letters to every hotel in Phuket (there was no such thing as email or even mobile phones). There was no demand for my design skills, but I was good with languages, so after two months of writing resumes, I finally got a Guest Relation job at Banyan Tree Resort Bangtao. My salary was 12,000 baht so eating in the street was a necessity (but it was always good).
Banyan Tree was my first encounter with computers. We used them to write welcome letters to the hotel guests, and I started to play with the Microsoft Word drawing toolbar. That was super basic, but I managed to do some presentations (remember it was the early days so don't smirk 😀 ).
With those simple designs, I approached another hotel to help them design their events, and I got a designer job: it paid 15,000 baht! (3,000 baht means a lot when your salary is so low).
I worked for a year, saving enough to buy my computer (Pentium 486! Woohoo!) and started to do some logo design and brochures at night for the many businesses growing in Phuket. There was so much demand that I was making twice my salary at night so guess what I did!
In 1996 I opened my own advertising company called Andaman Graphics. It was a registered company, and I had proper work permit and registration. I never took a chance with this. I was incredibly busy, working until 4 am and open the office at 9 am every day for a couple of years. It grew fast, got large offices and more staff. Don't blind yourself, if you think to move to Phuket means be on the beach and work when you feel like, you will have a severe shock. It's very, very hard work, but it's also a lot of fun!
Phuket.com
I was specialising in Logo Design, Brochures and printed matters. One day a good friend introduced me to the 'Internet' and told me I should do websites. I shrugged and said I'd rather stay with logo design, but I gave a try to Webdesign. The orders were flowing in, and we couldn't be fast enough, mostly the growing diving industry. We had an excellent portfolio.
One day an expat businessman got in touch and made me an offer I couldn't refuse: growing a new network of travel websites and hotel bookings called AsiaWebDirect. Phuket.com was the start of all. I got a team, and we started to grow. The network got huge and was bought by bigger and bigger companies, and I'm still here with most of my team! Living here is a fabulous adventure, and it is always full of surprises.
---
From 1st bike to the latest car, quite a story.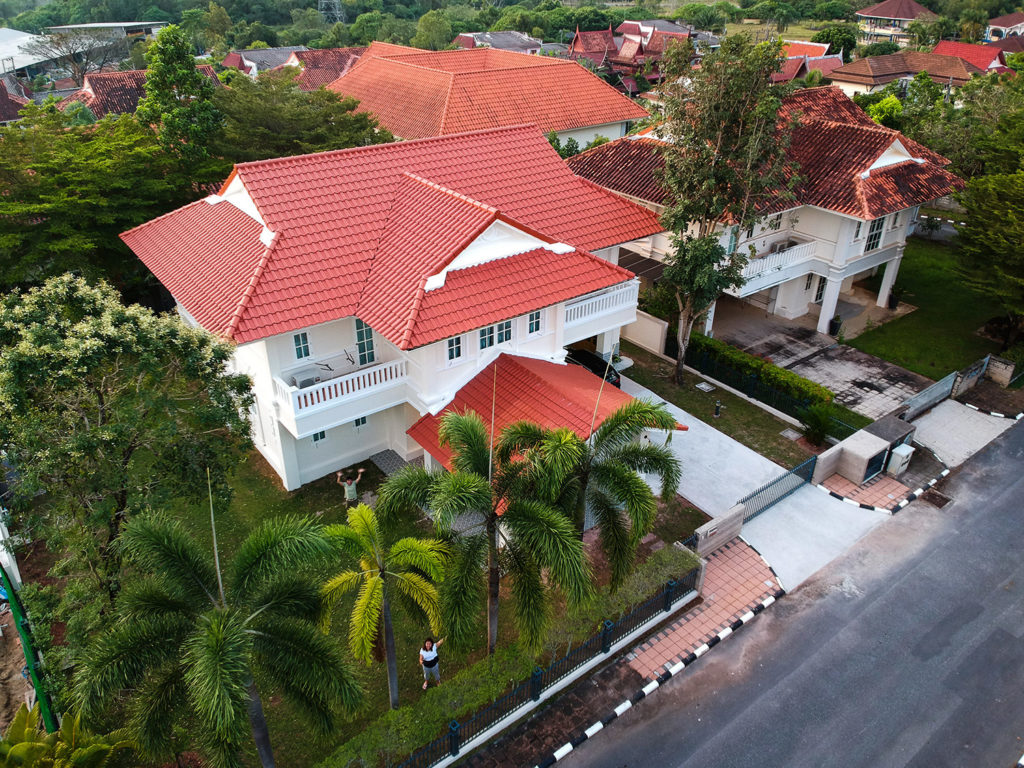 ---
Why Phuket 101
There were a few websites talking about Phuket, but none were enjoyable. Some were too formal, some were hard to read or not visually attractive, and some were too niche. I wanted to share a thousand photos I took along my life and the fun things I discovered in my endless wandering around Phuket.
---
Would I go back to France?
"Go back to live in France? No way, ever… But for holiday, anytime!"
After so many years in Asia, France starts to look exotic, but I wouldn't want to go there for work: I remember why I left, and France didn't get better since (I won't tell you what it is not to upset French people, but it had to do with French people permanent moaning). Do I feel French? Errr, sorry I don't; Thailand is still the best place to live in!
Despite all the stories you read or see in the media, you can live a smooth, happy life in Phuket and Bangkok; Media's purpose to highlight the bad news, and mine is to show you the best of Phuket and Bangkok.
---
What do I do for a living?
I'm Head of Content in an online travel company, and I build… travel websites 🙂 I manage an enthusiastic team of writers, designers and photographers who all share the same passion: travelling and photography.
Things that make me smirk about Phuket (not to say annoy me)
People who think that only the cheapest street food it worth eating and anything above 30 Baht is a rip-off. Errr, it's called cuisine! Savoir-faire, creativity and best ingredients make a huge difference, even on the most simple dish. Of course, there are many overpriced restaurants, but many Thai restaurants make it to the international scene for a good reason.
Phuket beaches are crowded! Yes, 5 out of 40 beaches of Phuket are busy. Be smart!
Your photos are beautiful; you must have a good camera!
---
What cameras am I using?
Canon 6D, Canon EOS-R with 8-15mm, 16-24mm, 24-105mm, 24-300mm but often iPhone 11 Pro.
---
Are we sponsored?
We are not paid by the Tourism Authority of Thailand to promote Phuket!
We do not get paid, and we pay for all our meals, the vast majority of our hotel stays, flights and trips.
To talk to us, use messenger on our Facebook page