---
Osha Bangkok
---
Osha Bangkok is one of the fanciest and most upmarket Thai restaurants in Bangkok. Originally from San Francisco, where they run five restaurants, Osha serves Thai food with a slight twist, created by talented Thai chefs.
Standing high and proud at the corner of Wireless and Ruamrudee roads opposite Lumpini park, the building is massive and even intimidating. We first tried it soon after the opening, and while it was not bad, the first experience was not as striking as the design. At the time, the cuisine was a little too complicated for our taste. So, we originally didn't rank this restaurant so high and forgot about it… until today.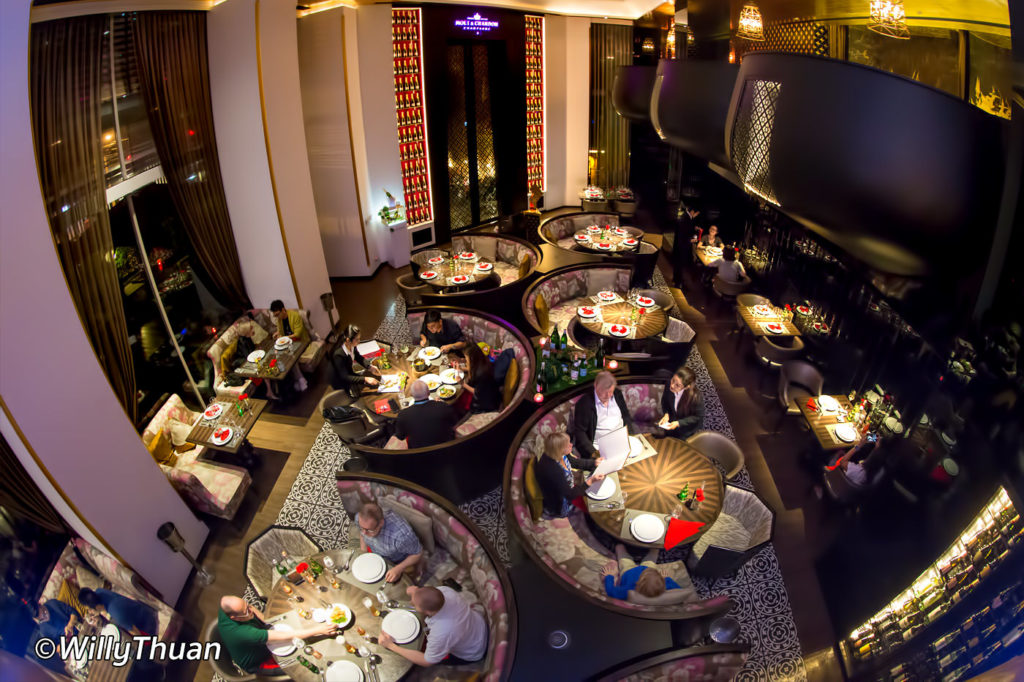 Overall this new experience at Osha Bangkok was a success. We will return and even take friends with us: good Thai food is meant to be shared!
We happened to walk by Osha Bangkok, and we learned from years of intensive restaurant reviews that every restaurant deserves a second chance. This dinner was about proving how correct this guideline can be!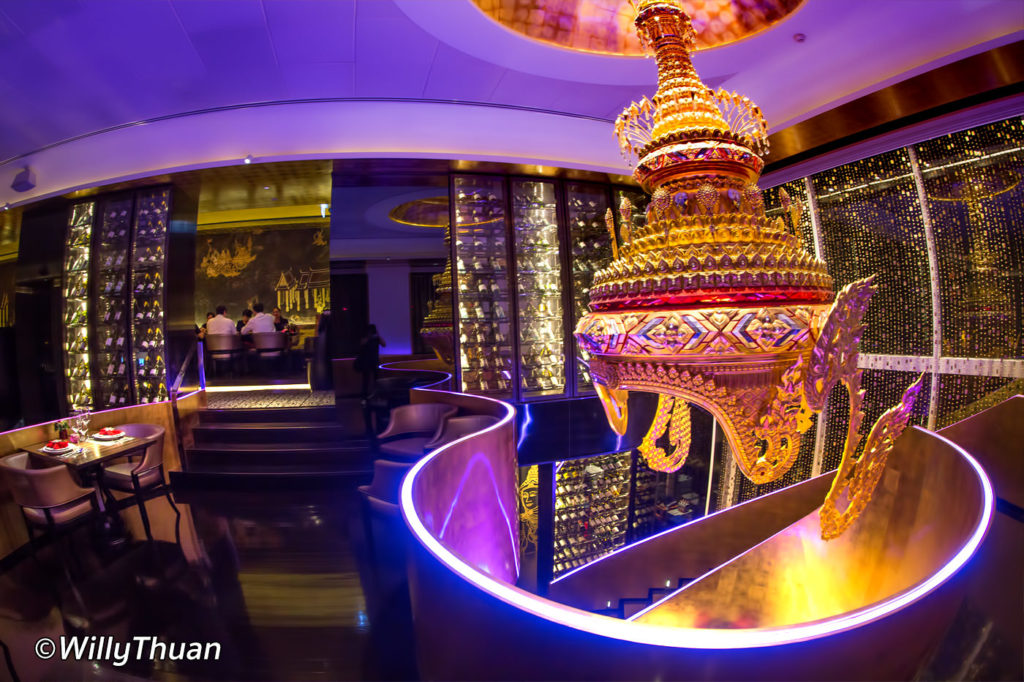 We walked through the majestic doors, and since you can see inside from street level, we wondered how busy can such a large restaurant could have become. Osha Bangkok can accommodate a large number of guests, and a year before, it wasn't that busy, and there was not much buzz about it, so we were a little anxious. To our surprise, Osha Bangkok was almost full, buzzing with guests' conversation, including the second floor!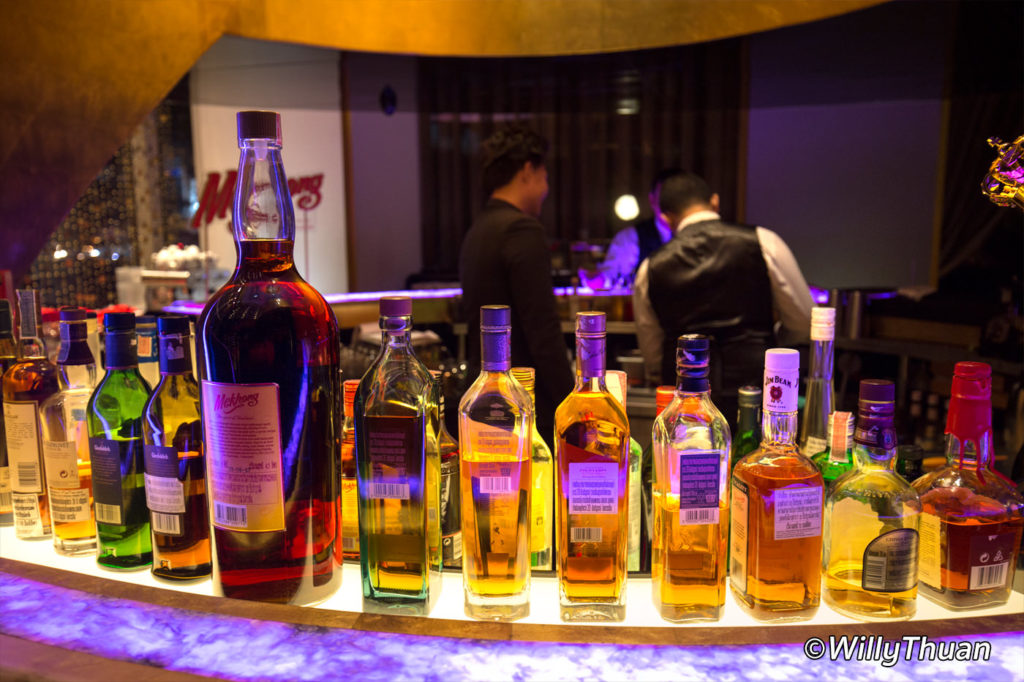 The design is impressive, super high ceiling, two-floor high curtains, and golden circular bar topped with an immense traditional Thai crown headdress decoration. The result could be a little kitsch, but with a lively atmosphere, it is quite beautiful.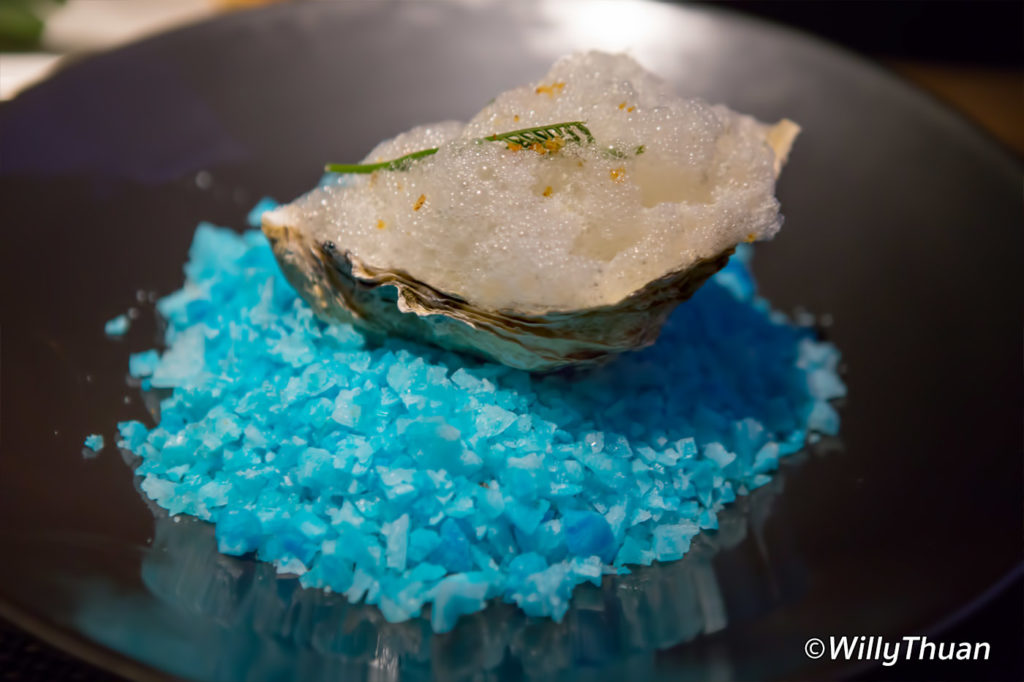 We were invited to sit at one of the few free tables left and offered the menu, and a couple of free fizzy drinks were offered to us; from that moment on went from one good surprise to the next. The atmosphere was lively and relaxed; the team was efficient and friendly without acting sophisticated (service can feel stiff in high-end restaurants). The food presentation was beautiful, the food was excellent, and the prices, including the wine, were not as high as in our memory. So basically, Osha Bangkok appeared to be a very good and successful restaurant.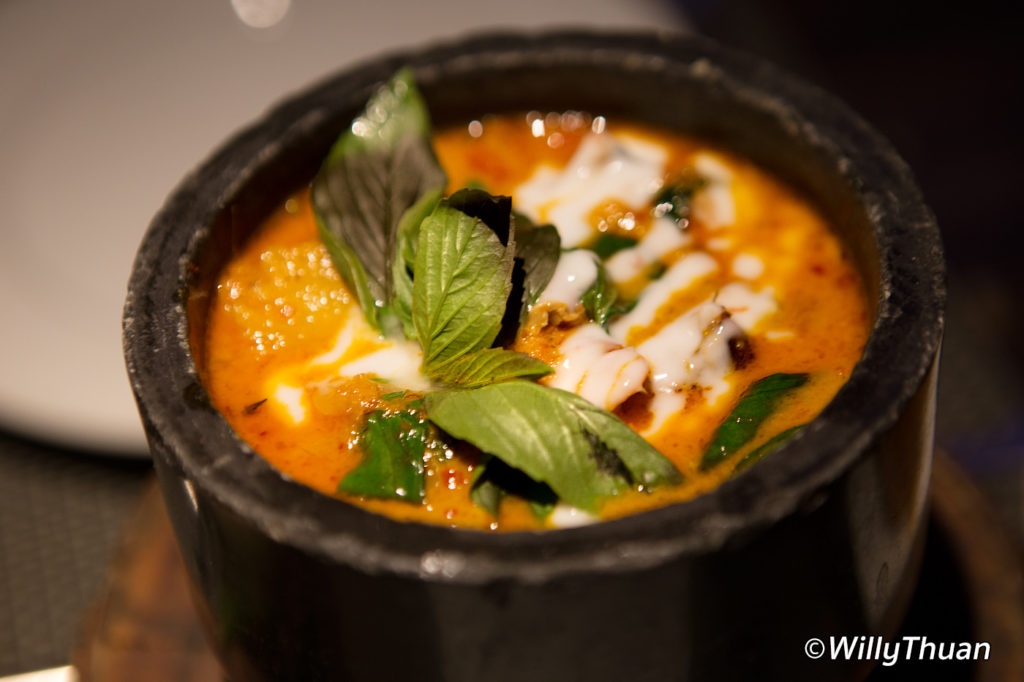 So many dishes on the menu sounded tempting. We ordered 5 dishes with the usual question in mind, is it going to be too much? That's every small eater's dilemma.
The food is very Thai with elegant decoration, but just a tiny twist in taste and remaining authentically Thai in taste. Some dishes were spicy, even for Thai. We went for the real Thai treats: Crispy pork ears (yes!) (270 Baht), Poached oysters with kafir lime foam served on a bed of blue salt crust (250 baht), a very authentic and excellent Tom Sai Bua soup with lotus stems (350 baht), Steamed sea bass with spicy lime sauce (550 baht) that tasted very local but with a more elegant presentation.
Everything without exception was delicious, the team was always prompt and speaking very good English, polite and friendly, price is a little high but a lot less than it used to be. Overall this new experience at Osha Bangkok was a complete success. We went back several times and took our friends with us… good Thai food is meant to be shared!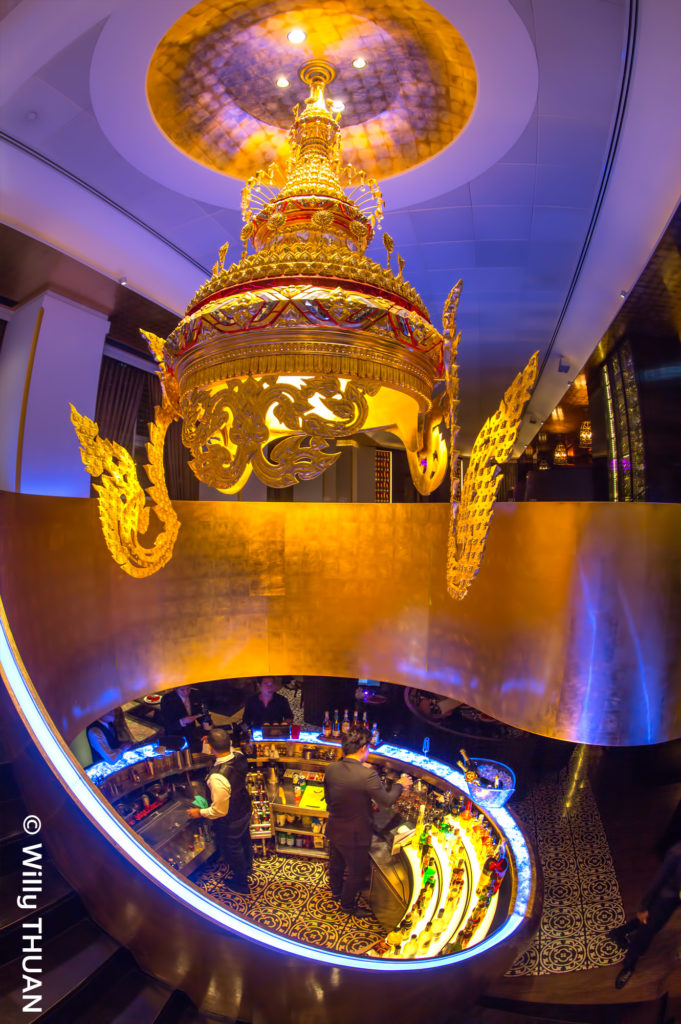 ---
Osha Restaurant Info
Location: Ploenchit
Address: 99 Royal Resident Park Lumphini, Pathum Wan District, Bangkok 10330
Open: 11 am – 2:30 pm, 6 pm – 11 pm, Sat & Sun: 6 pm – 11 pm
Phone: 02 256 6555
Dress code: smart casual
Price: very high

---
Osha Restaurant Map