---
An oasis of peace in busy Bangkok
---
Ma Maison Bangkok is a unique Thai restaurant found in the Ploenchit area, one of the most desirable settings in town. A glasshouse sitting in the shade of immense old trees in a vast green garden, hidden in the heart of Bangkok, somewhere you would never expect to find a garden of this size. The restaurant shares the garden with the Nai Lert Park Heritage Home museum and the old Swissotel Nai Lert Park that used to be a Hilton in its glorious years of 1984. In addition, it is really easy to access the restaurant, just a few minutes' walk from Chidlom BTS station, right behind Central Chidlom and Central Embassy shopping malls.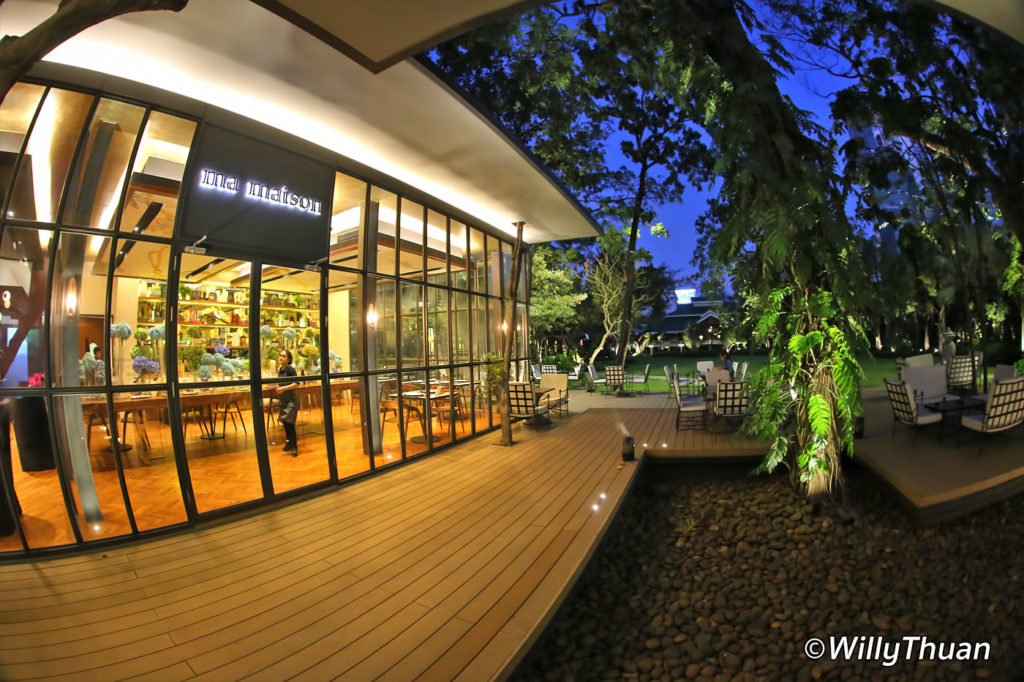 Ma Maison Restaurant is a rare and unique place, the exact definition of a hidden gem in Bangkok.
Ma Maison surprisingly is not a French restaurant at all. It used to be but apparently, French Cuisine is not so popular in Thailand anymore. This is now an up-market Thai restaurant serving a mix of traditional and modern Thai cuisine.
Divided into three glasshouses in the shade of immense trees, the restaurant is beautifully designed with floor-to-ceiling glass walls offering full views of this immense garden. The back wall of the restaurant is decorated with an eclectic mix of stuffed birds, books and tons of orchid flowers. The whole layout works surprisingly well.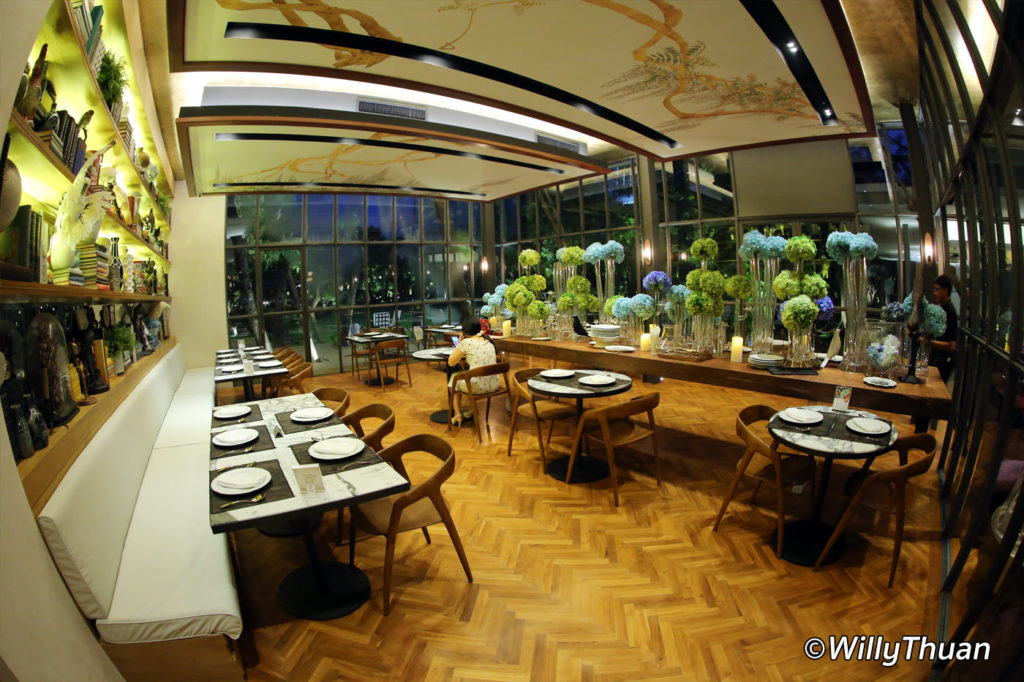 The large main room which also includes a bar area doesn't accommodate many guests so reservations are strongly recommended. On each side, 2 smaller rooms are dedicated to groups. Having a drink on the outdoor wooden terrace is fantastic if the weather permits, which means when it's not raining but also when it's not too hot! It's a great place to work in the afternoon since the terrace is also shaded by trees.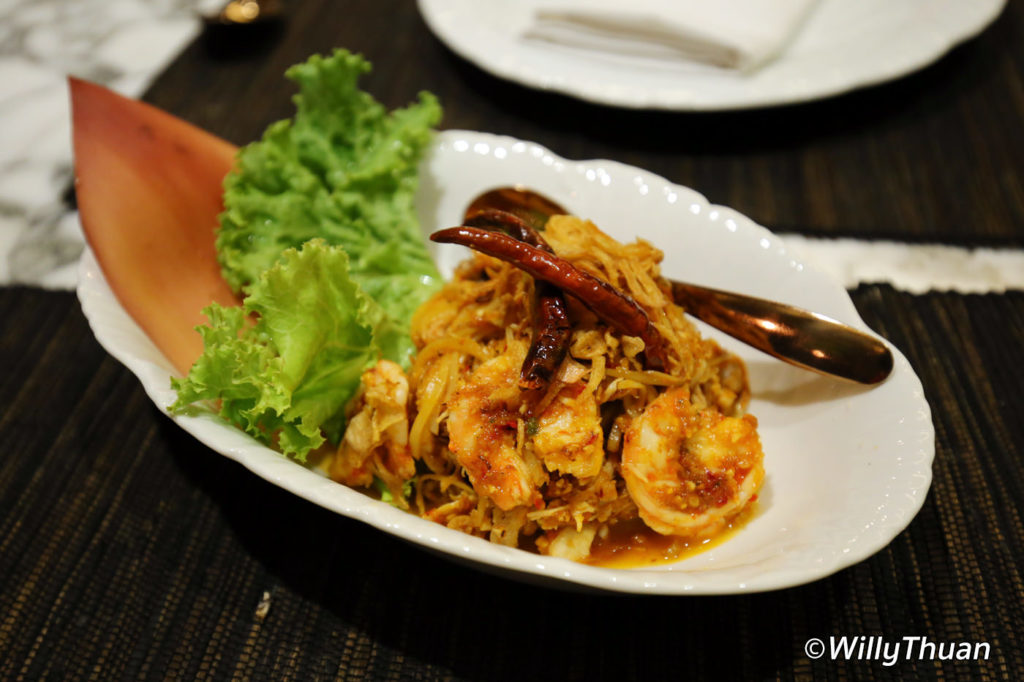 ---
What we ordered
The menu offers a good choice of classic Thai dishes with a small twist and great ingredients. We loved the Yum Hua Plee (Banana blossom salad), Gaeng Kee Lek (a delicious Curry with cassia leaves) and Yum Tawai (see photos)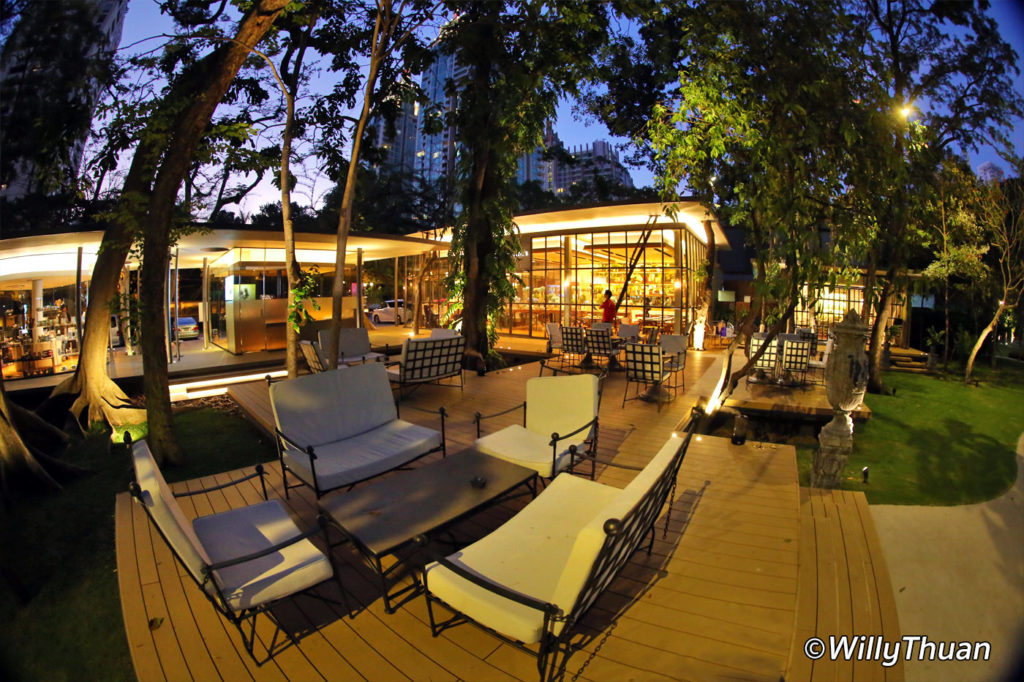 Ma Maison Restaurant is a rare and unique place, the exact definition of a hidden gem in Bangkok. Perfect for a date or to go with special friends to experience a more elaborate Thai cuisine. It's a whole experience in an oasis of nature in the busiest part of Bangkok.
---
Ma Maison Bangkok Info
Location: Ploenchit
Address: Nai Lert Park Heritage Home, 4 Soi Somkid, Phloen Chit Road
Open: 11 am – 3 pm, 6 pm – 10 pm
Tel: 02-655-4773
BTS: Phloen Chit
Price: High
---
Ma Maison Bangkok Map
マメゾン バンコク を日本語で読む
---
Phuket 101 receives 250,000 monthly visitors on average (500,000 pageviews/month).
If you wish to advertise on this space or other options available on Phuket 101, just contact us.