---
Erawan Museum
---
Erawan Museum in Samut Prakan near Bangkok is a striking monument, not to be confused with the famous Erawan Shrine in downtown Bangkok. This gigantic three-headed elephant, built on a pedestal, stands 44 metres above one side of the expressway. Surprisingly, not so many people drive there. The Erawan Museum was designed and built in 2003 by Lek Viriyaphant, a rich businessman who also designed the famous 'Sanctuary of Truth', probably the most visited landmark in Pattaya. He also designed the Ancient Siam, a nearby park featuring miniature reproductions of Thailand's most famous temples and historical buildings.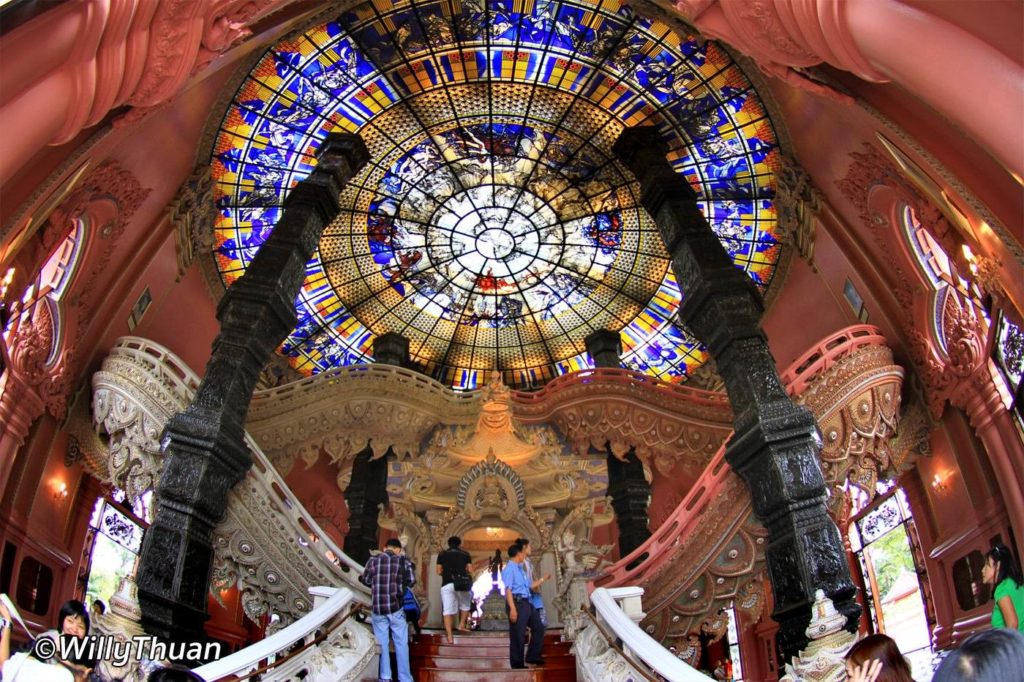 The massive elephant is set in the middle of a large garden. On the way to the building, many visitors take a moment to make merit at the small shrine built in front of the entrance, offering garlands of yellow flowers, sticks of incense or placing lotus flowers in the water surrounding the museum.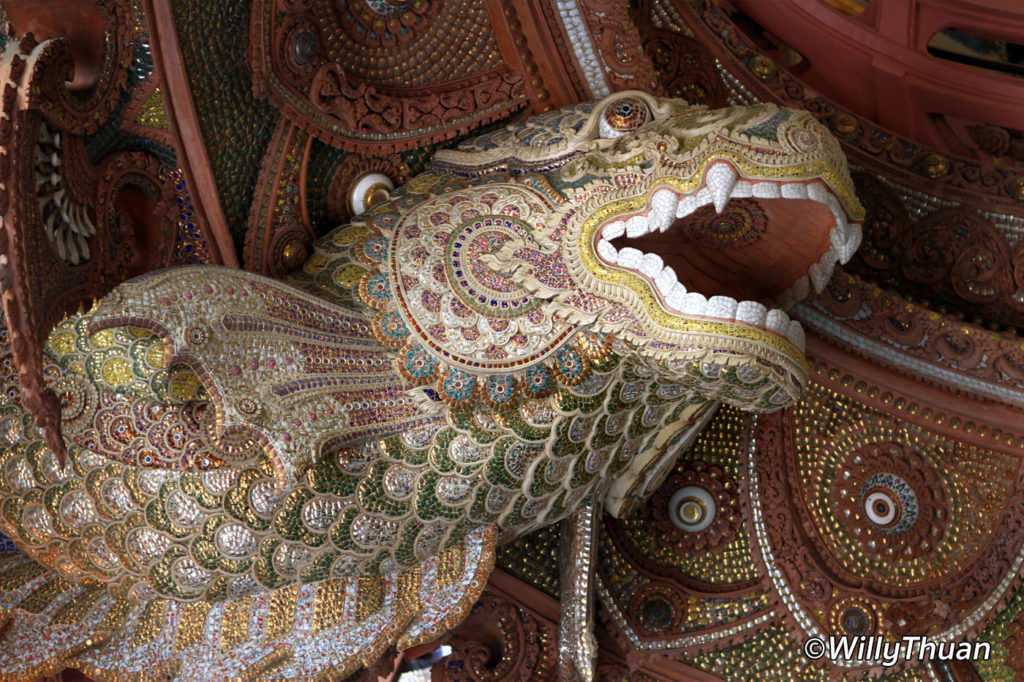 Inside the Erawan Museum, the daylight falls on a circular room through an immense and magnificent stained glass representing a map of the world. The intricate design of the convoluted staircases leading to the top of the room is part of a massive and beautifully carved white and gold dragon.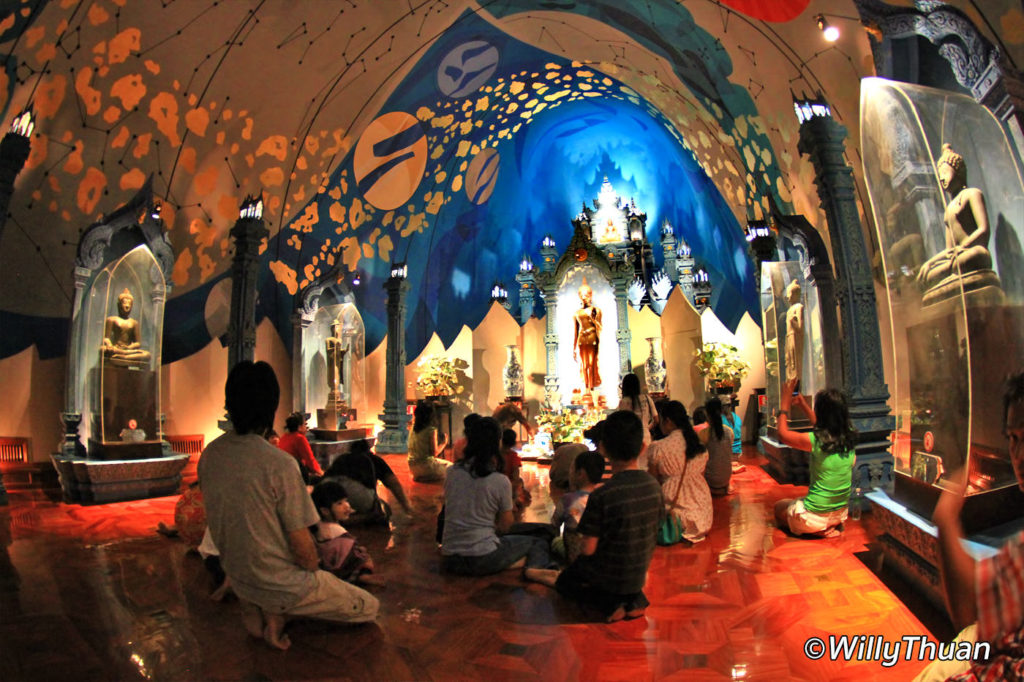 At the bottom of the staircase, you can't miss the three head elephants with ears made of porcelain spoons and millions of broken pieces of Benjarong, these beautiful and delicate Thai ceramics. One thing is obvious: this person didn't like straight lines, and the amazing double stairs are a masterpiece of carving.
Walking up the curved staircase takes you to a small terrace where you can choose between a small lift or another set of spiral stairs. These take you to the shrine built inside the elephant's body, a dark blue curved room painted with a map representing stars and heaven. The front part of the room, where the elephant head is, displays a beautiful multilevel shrine with Buddha images. Here too, people pray and pay respect, and despite having some security woman permanently saying something on loudspeakers, the place feels peaceful. Some beautiful antique Buddha statues seat or stand in glass displays around the room.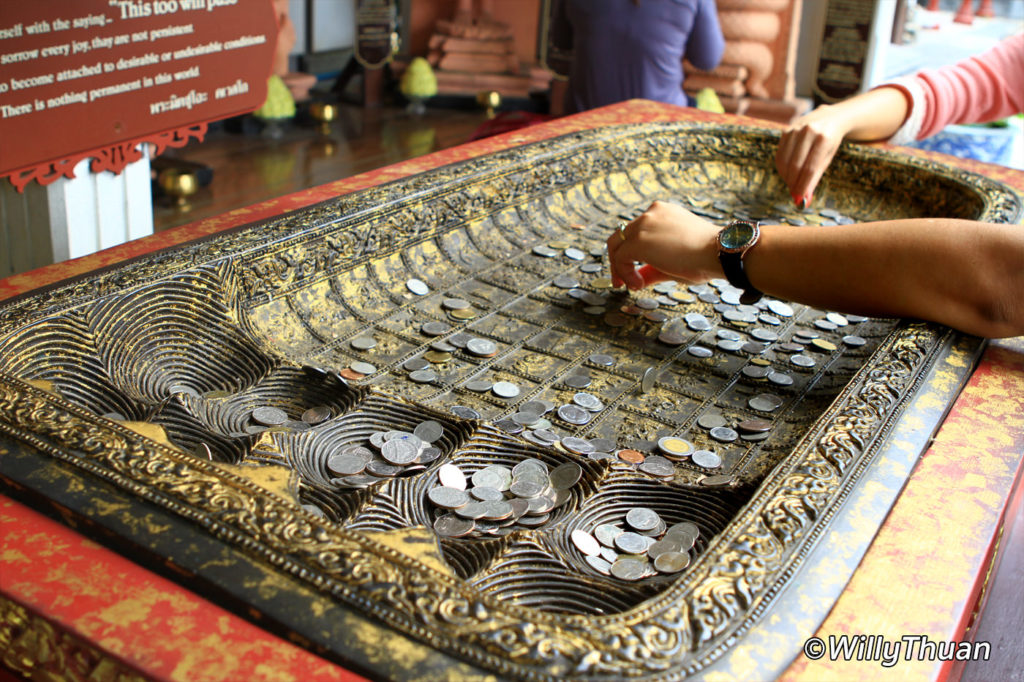 This monument is not to everyone's taste, but I respect a man who pursues his dream, especially when the results are so impressive.
To go there, the best is to drive, of course, but if you are not in a rush, you can ride a local bus (102, 507, 508, 511 and 536). Or take the BTS to On Nut Station and get a cab from there (around 100 Baht). The price is 150 Baht for adults and 75 Baht for children, but only 50 baht for adults if you live in Thailand. The museum is open from 8 am to 5 pm.
---
More photos
---
Erawan Museum Info
Location: Samut Prakan
Address: 99 Bang Mueang Mai, Mueang Samut Prakan District, Samut Prakan 10270
Open: 9 am – 7 pm
Phone: 02 371 3135
Price: 400 baht
Opened: 2003
Height: 44 m
---
Erawan Museum Map