Royal Thai Cuisine in Silom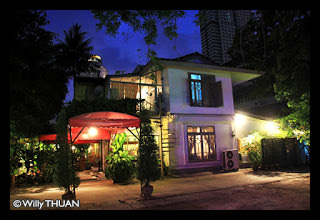 Thanying Restaurant is set in an unpretentious old fashioned house tucked in a small street of Silom and serving a delicious Royal Thai Cuisine at affordable price. You probably would drive by many times without noticing it, and except for a small signboard, it looks like somebody's private property, and once inside, the feeling of dining in someone's house is even greater.
From the large and convenient parking, you'll enter the small waiting area also used as a bar, then waiter we lead you to one of the two dining rooms, all small and fitted with antique furniture. Nice atmosphere and cosy ambience, not over the top. The only hitch was the two overlapping music backgrounds coming from the two main dining rooms… disturbing and unnecessary.
Service was sober and efficient and we picked traditional dishes. As Royal Thai Cuisine uses only the freshest and best ingredients, simple dishes are often the best. As described in our previous story, the presentation and preparation of each dish, however simple, is one of the keys of royal cuisine. Beautifully prepared, cut or carved, it comes without any bones or seed and is always cut in small bit easy to eat.
---
What to order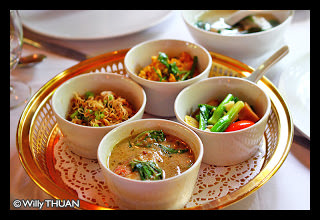 We went several times to Thanying restaurant and here are some dishes we enjoyed and would recommend. Most of all, Khao Chae – Summer Rice (ข้าวแช่) is a bowl of cooked rice served in fragrant ice water… accompanied by deep-fried side dishes (see photo). According to the famous Thai celebrity Chef McDang, the only true royal dish is the Khao Chae, a very delicate and surprisingly simple dish you would not give a second look at it it was at the table of a 'normal' restaurant. Note that if you really want to try this dish, you need to call in advance!
Nam Prik Mun Poo Kai Khem – Crab roe mixed with salted egg yolk dip
Poo Jha – Deep fried small cakes with crab meat and Thai spices
Kati Lod Chong Ice Cream – coconut ice cream with green sweet noodles made of pandan leaves
Yum Tawai – boiled vegetable salad with eggplants and bamboo shoots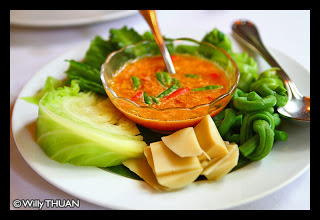 If you have no idea where to start and what to order, select one of their three-set menus, it will allow you to sample a good selection of small dishes and it costs from 660 baht, 790 baht or 990 baht per person.
Here is how Thanying Restaurant describes themselves in the menu: "Thanying is a conversation address to the third female royal generation. The Thanying restaurant is named in honour of H.S.H Princess Sulabh-Valleng Visuddhi who was once the head cook in the Sukhothai Palace Kitchen for her sister Queen Rambhai Barni of King Rama the seventh. Specializing in the kind of recipes which was once used there, the Thanying kitchen is now supervised by Princess Sulabh's son, M.R. Sorut Visuddhi (M.R., Mom Rajawong, the fourth royal generation.)"
---
More Photos
---
Thanying Restaurant Info
Location: Silom
Address: 10 Pramuan Rd, Silom, Bang Rak, Bangkok 10500
Phone: 02 236 4361
Open: 11:30 am – 10.00 pm
Price: Affordable
---
Thanying Restaurant Map