What is Ka Jok See?
Update: Ka Jok See is temporarily closed, maybe even permanently
Ka Jok See Phuket is, to say the least, a surprising restaurant. Tucked in a small quiet street of Phuket town, it never advertised and never had to since it's full every day. So don't just walk in and ask for a table; you wouldn't get one. Moreover, their dining model defies anything we have seen so far in Phuket… they only have one fixed price for food, which should be around 3,000 Baht per person now. So what is their secret?
Ka Jok See (which means 'stained glass') was built in a Sino-Portuguese house more than twenty years ago and has changed very little to their decoration. A surprising amount of guests can fit comfortably in a small dining area—partly set indoor, plus a large table under the outdoor archway typical of this architecture. The room has a high ceiling with wood beams, lots of roses, warm, soft lighting, and actually no stained glass! Going there is an experience in itself.
Ask any resident if they know Ka Jok See Restaurant, and everyone would point in the right direction. For 1,200 Baht, you get to order anything on the small menu given to you at the table, and you can order as much as you want. Food is as good as you would expect from a restaurant successful for so long. But once again, is that it?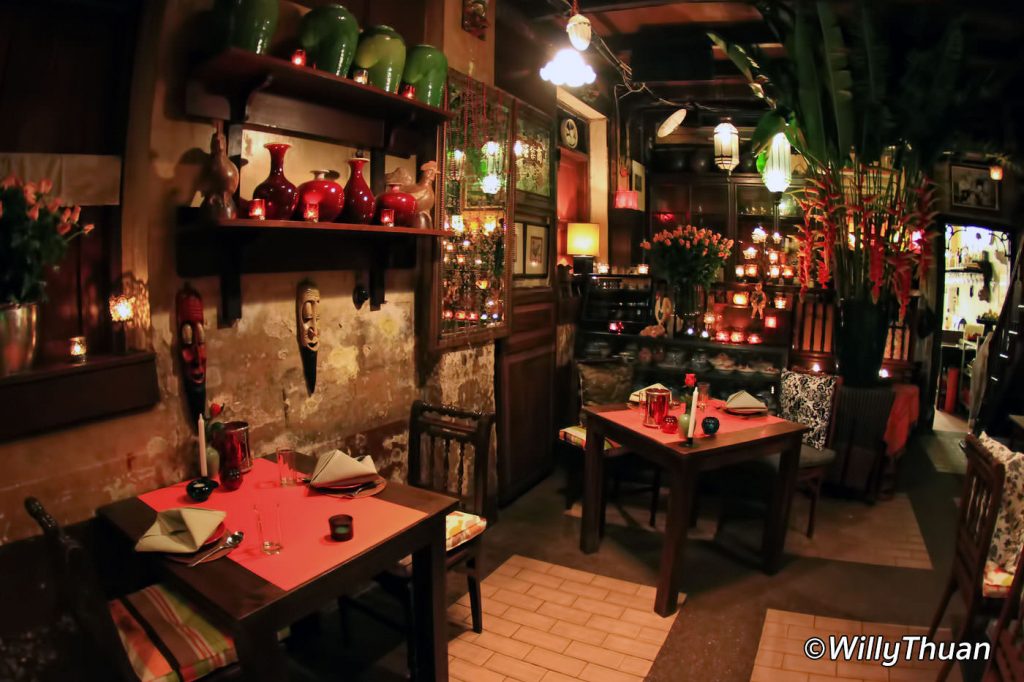 When guests start to arrive, you will feel the change of mood, it gets cosy and warm, and you can't help feeling yourself move into a party mood. Music and wine, both good, probably helped a lot and once you reach 9 pm, people start dancing between the tables, in the middle of a restaurant not bigger than 5 m x 15 m. Staff are very good at initiating this natural happening. When it starts, it won't stop until late, but if you are not a dancer, no one will harass you.
So it's a great place to surprise your friends, and in this kind of party places, the more, the merrier. So that night, for dinner, we picked fern salad, fried spring rolls, Pomelo salad, Chicken lemon… and food kept on coming. I suddenly realize I don't remember what came next. All I can remember is that we had to ask them to stop bringing more…
The verdict for that night is surprisingly good! If you like to dine in a party mood, with a bit of good wine, a bit of dancing, great music with good friends, you got to treat yourself and add it to your list!
---
Ka Jok See Restaurant
Location: Phuket Town
Address: 26 Takuapa Rd, before Suay Restaurant near the fountain circle.
Open: 6;30 pm – 2 am
Phone: 076 217903 (Remember to call for reservations!)
---
Photos of Ka Jok See
Ka Jok See Restaurant Map