Phuket Travel Guide for lazy readers. We travel quite a lot and we know what it feels like to go to a place you never visited before… where to start, what to see, what not to miss? As a matter of fact, this also applies to places you visited many times: What should you do the second time, what did you miss the first time, and what can you still do that you haven't done yet?
So we compiled here all our TOP 10 Phuket Travel Guide and divided them into five sections:
The Really Good Stuff, the Fun Stuff, the Useful Stuff, the Silly Stuff… and the Weird Stuff. There is a lot of research and work in each of them, so you won't have to! We hope you enjoy it and share it with your friends too!
---
The MOST POPULAR STUFF
---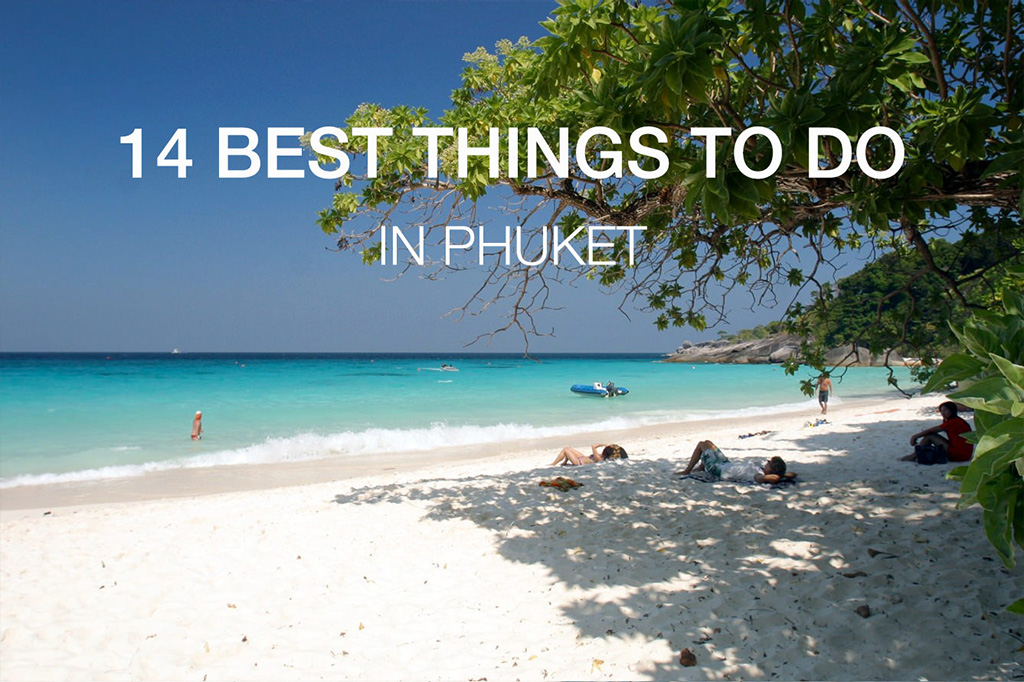 Phuket has a surprising amount of things to see and do for such a small island and if you are as lazy as I am, you don't want to read twenty pages to start your holidays somewhere. From the fabulous Phang Nga Bay to the famous Phi Phi island and all the way to Krabi, there is so much to do it can be overwhelming.
These are 10 of Phuket's all-time favourites, if you can fit some of them into your holidays, you definitely will have great memories… Read more!
---

There are so many islands near Phuket, big and small, it would take forever to visit them all. Most are not far and you should really consider adding a couple of islands to your trip. These are just a few islands we had the chance to visit and we will be adding more as we travel around. Read more
---
It's not all gloom in Phuket when it rains… as in any tropical country you still can expect some good sunny days in the rainy season, but better be ready if it lasts. Here is my little list of suggestions. Read more!
---
Here is our little collection of 22 great hotels in Phuket. We personally tried, enjoyed and would recommend any of these resorts without hesitation. Staying at a hotel is fully part of your holiday, so it should be an experience and a memory in itself, a memory you will bring back home as much as the beach or the food. Read more!
---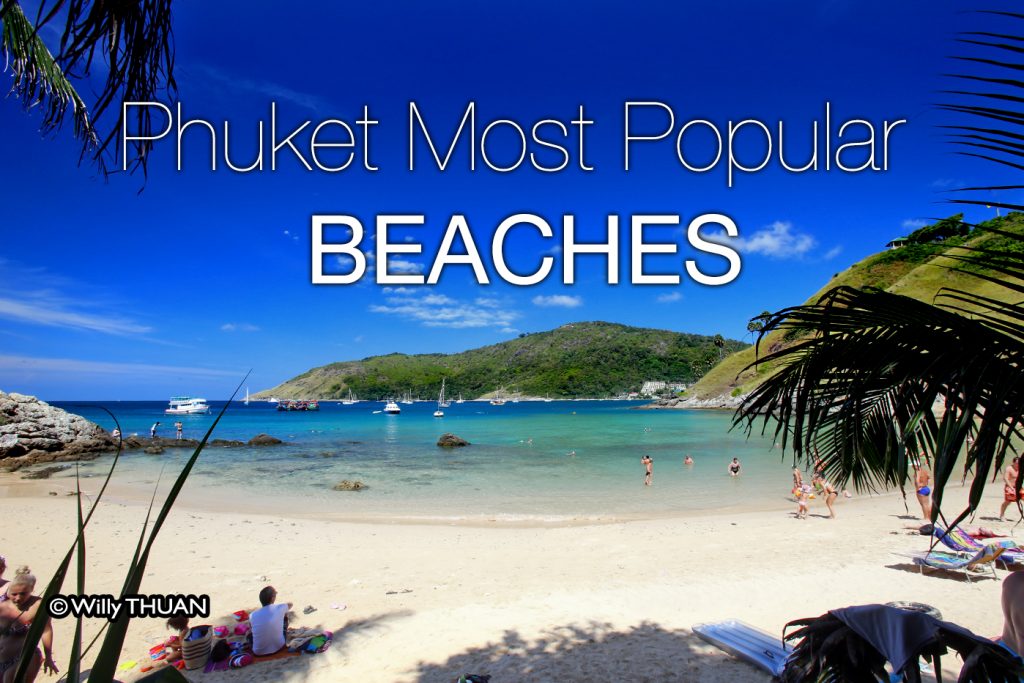 How often do we hear "I don't like Phuket because I don't like crowded beaches"? So here are 32 Beaches to choose from, you will be surprised to see how many are still untouched! Read more!
---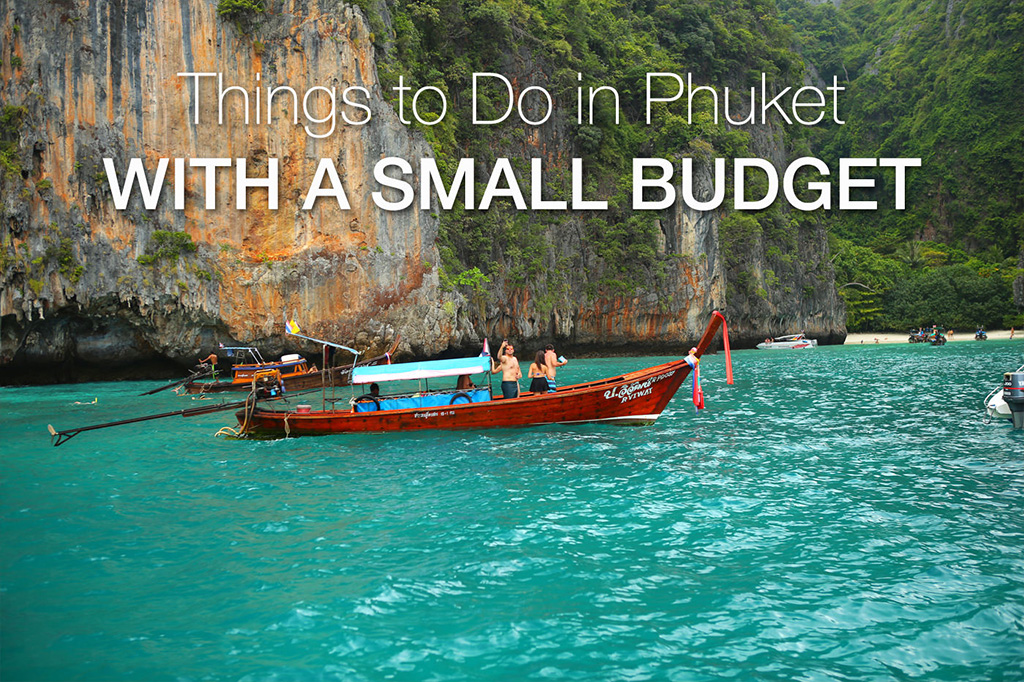 Phuket with a small budget is not as difficult as it may seem. Of course, it's not easy, in general Phuket is more expensive than anywhere else in Thailand. But if you start with these few suggestions, you will be able to make the best of your holiday without spending a fortune. Read more!
---
Not all Phuket beaches are suitable for good snorkelling, so we listed beaches with rocky and peaceful areas. None will ever be as rich as Coral Island or Similan Islands but will have enough marine life to make your day. The best beaches are often the remote and hidden ones, not too disturbed by boats and swimmers. Read more!
---
Night markets in Phuket are always fun, from the new Chillva Market to the giant Naka Weekend Market or the Sunday Walking Market in Phuket Town, almost everyone loves to browse the incredible array of things you don't actually need. Phuket night markets are intense, colourful, surprising, fascinating, puzzling, smelly, messy, labyrinthine or overwhelming. Read more
---
The FOOD STUFF
---
This is the most costly page we ever wrote. We tried them all, paid our bill, never informed in advance, and never got any special treatment. These ten restaurants are among the best dining experiences we had in Phuket. To get ten, we had to try a lot more than ten. Read more!
---
Here are the Most Popular (very) Local restaurants in Phuket. None is fancy and all are cheap: they don't care about the decor and they don't have time to smile, it's all about efficiency and taste! Some of them might seem dirty if you are not ready, so if you don't like crowds, plastic plates, or toilet paper as napkins you won't need this page. Read more!
---
We are proud to share with you the '10 Best Local Seafood Restaurants in Phuket! There are so many of them in Phuket it would be a Top 100! So as we decided to stick to the concept of really LOCAL seafood only. We went around, ate a lot of seafood and as we are now fat and broke, let's reveal the results! Read more!
---
What Phuket specialities should you try and where to find them? (.Here are 10 really local dishes or popular Phuket variations of Thai dishes. To make it easy for you, most of them can be found around the intersection of Dibuk Road and Yaowarat Road, mainly at Loktien Restaurant. Read more!
---
There is no need to talk about the popularity of Thai food around the world, but just like many of you, we really love eating local when we travel abroad so we listed here 10 Great Classic Thai Dishes you can try on your first trip to Thailand, just as a hint to start. Read more!
---
The EXPLORER STUFF
---
Like most people, you want to visit Phuket but you would prefer to see it from a less-known angle, where the chances of meeting another tourist are rather thin. Many would say there are no such places in Phuket anymore, but there are! So here are some of the little places I rediscovered in the past months. Read more!
---
Phuket rooftop bars are just a handful but the trend has started and is here to stay, especially after the success of Beach bars, people are always attracted by bars with a little something on top. Read more
---
Phuket has a nice collection of viewpoints and here is a list of ten beautiful places to take amazing photos from or even have a romantic dinner. Read more!
---
Thalang Road is where everyone goes on a Phuket exploration but if you too have a passion for old houses, you might want to explore a bit deeper to uncover some amazing mansions. It is so easy to imagine Phuket hundred years ago when standing in front of one of these beautiful mansions. Read more!
---
Like most people, you want to visit Phuket but you would prefer to see it from a less known angle, places most people haven't heard of, and where the chances to meet another tourist are rather thin. Read more
---
The FUN STUFF
---
Phuket is a great tropical destination for families. Obviously, there is the beach and the sea, but that would be a waste not to add a bit of activity to your stay. These activities are great to enjoy as a family, and your kids will love finally sharing some fun and a good time with you. Read more!
---
Everyone expects something different from his holiday, but everyone wants to see the best of it in the least amount of time and (almost) everyone wants to PARTY! This is not a Top 10 that would suit everyone, just 10 Fun and Wild Party Tips I would recommend to my friends. Read more!
---
What are the most romantic things to do in Phuket? Don't listen to what some people say: Phuket is definitely a romantic destination; it is just up to you to be original and smart enough to avoid busy places and stay away from crowded party zones. Read more
---
Who said Phuket was an island for guys? Here's a list of fun things to do for girls! Read more!
---
We compiled here 10 Quick Facts about Phuket that will summarize some interesting facts. It is not meant to tell you everything you should know, but you will get the big picture in a few minutes, maybe enough to know the basics to start. Read more!
---
The SILLY STUFF
---
Is that girl you are chatting with not a bit 'too good to be true'? Tall, slim, pretty to die for, big assets and really sexy… Ah Ah, you fell for it! she's a Katoey! So here are 10 tips for you not to be fooled next time. So what is a Katoey anyway? A Katoey, or ladyboy, is a transvestite that is actually considered by others as a 'woman'. Read more!
---
Here is a fun story you might find useful: You can actually lose weight while enjoying your holiday by trying local food, experiencing fun or unusual things, exploring the island and even proudly coming back with a tan… The majority of Thai people are slim and healthy, but don't be mistaken: they do love to eat! a lot! Read more
---
The WEIRD STUFF
---
Living in Phuket for so many years has brought a lot of fun sights, and we should get used to them! But sometimes I still smile when I witness one of the following weird or strange things that are now so much part of our daily life. I'm not only talking about the good old 'Phuket Vegetarian Festival'. These strange things below are visions we meet regularly. Read more
---
Here we focus on authentic dishes Thai people cook daily and really enjoy. After 17 years in Phuket, I still can't eat several of them, but I can tell when someone had some for lunch! Some look weird, some smell really bad, some taste terrible and some get all of it. Be daring! Try some of them when you visit. Read more
---
Did you try these appetizing insects sold on carts in the streets of Thailand? If you look at them, many just look like brown shrimps, but our instinct says: Shrimp = good, grasshopper = bad! But it's not like this everywhere, often related to economic hard times in history, people ate them first by necessity, then by taste or just for fun or fashion. Read more
---
10 Really Cheap Silly Things to Do
Is Phuket on half a shoestring? That sounds cliché or impossible. It doesn't even fit the style of our blog with all our fancy restaurants and trendy hotels, but it was just too tempting! So just for fun, you can try these 10 things and come back with a pretty fun story to tell. Read more
---